Sanatorium progress - the end is nigh!
The saga of the Sanatorium continues...
Quietly over the last few months I've been plodding away on the insanitorium. In the month of July, I clamped one of the layers to my CNC machine and very slowly cut out a circle. My CNC machine isn't really cut out for machine wood, and so it was a slow and noisy process.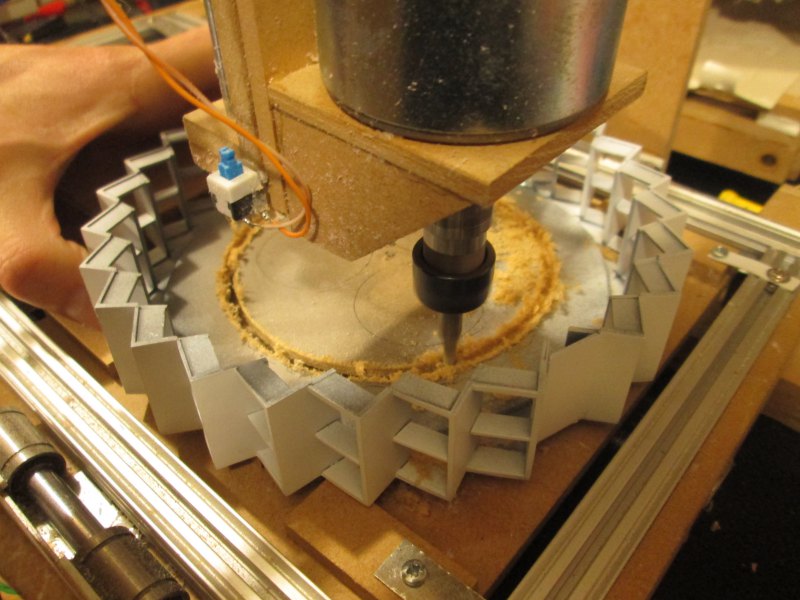 Despite pinning it to the bench, the piece kept breaking free or otherwise moving. After that I invented a better method of clamping the Dremel to a saw horse and pivoting the workpiece at the right radius; made the job much quicker!
After that I proceeded to, in a series of fits and starts, build more of the cursed thing over the coming months. The typical process was: stare at it for a month; do three hours work on it; start calling it names; start at it for another month!
But slowly progress was made. Here it is with the top and bottom layers on, with spacers and formers in place, and the inside surface being added.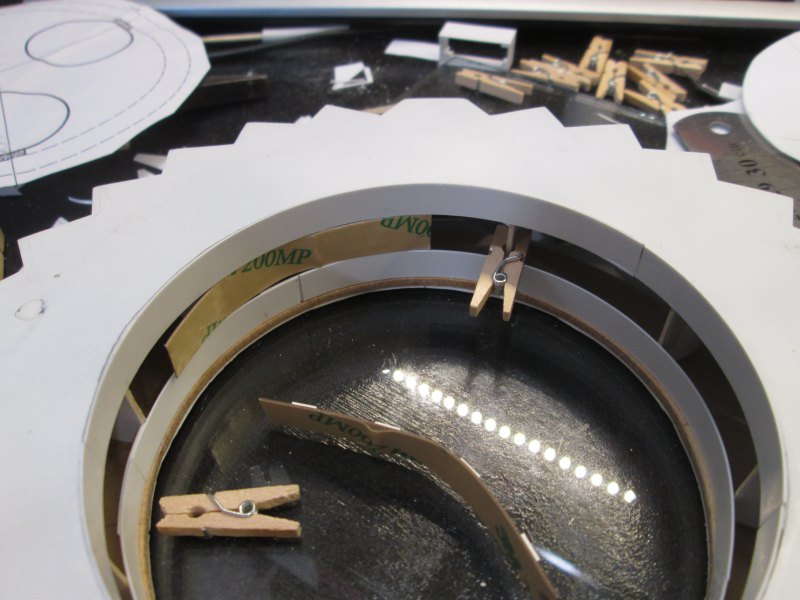 The gap between the two strips is just big enough for a strip of WS2812b lighting tape, as naturally I want the thing to glow at night.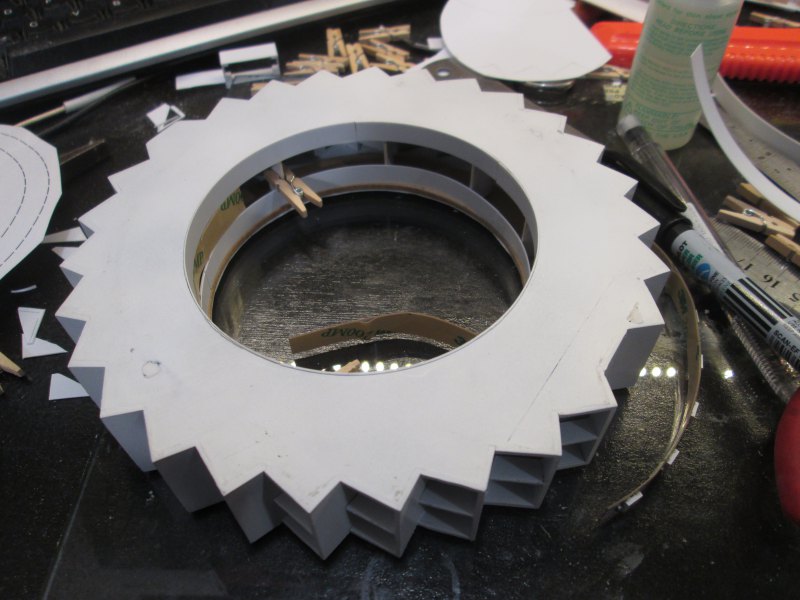 One of the bit problems I had was filling all the gaps between pieces, as nothing remained square or parallel or went quite as planned. I invented a rather effective filler from baby powder and 5 minute epoxy glue, however by the time I finished mixing it, I only had 3 minutes of working time left!
Then I had to sand off all the lumpy filler. For that I made an custom foot for my detail sander with some 240 grit wet & dry. Unfortunately the friction from all the sanding made it quite hot, causing the self adhesive velcro to give up every few minutes! But I stuck with it and eventually had a nice and smooth top and bottom.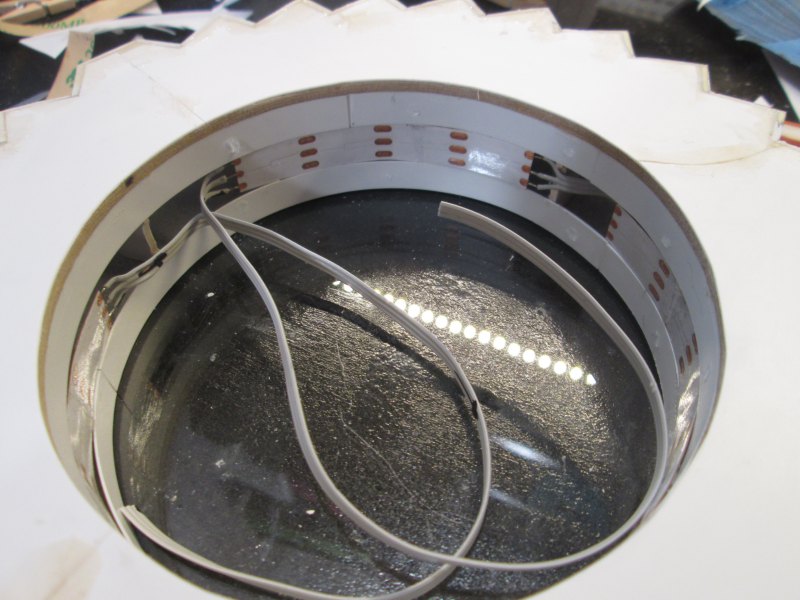 More wiring in progress. The wires are out (transmit) and in (recieve) wires for daisy-chaining the lighting strips together.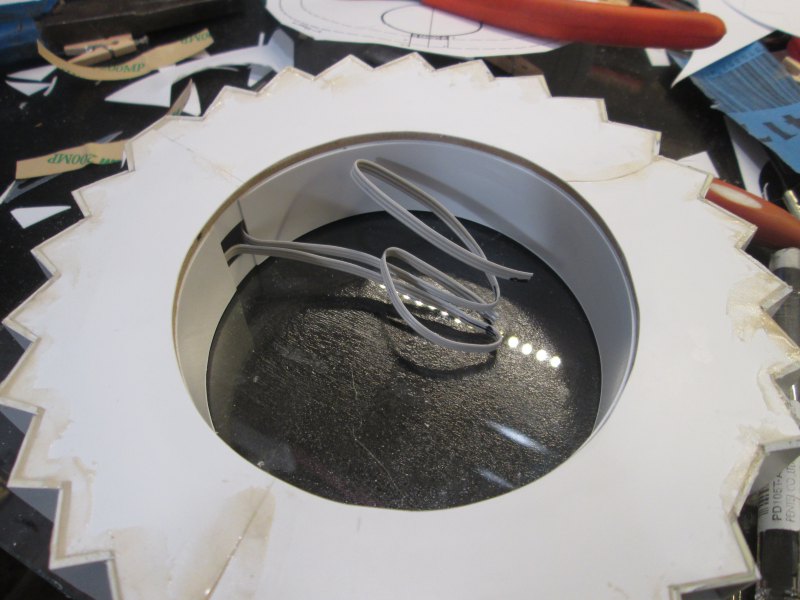 A second layer of styrene being wrapped around the inside. Here you can see my sweet-smelling filler around the edges. It took three or four sessions of filling and sanding before the top was smooth enough.
Poles
At this point I could start thinking about the poles. I found some PVC pipe under the house which I gave a good clean and chopped to (uneven?) length on my drop saw. End caps were easily made from 0.5mm styrene and epoxied in place.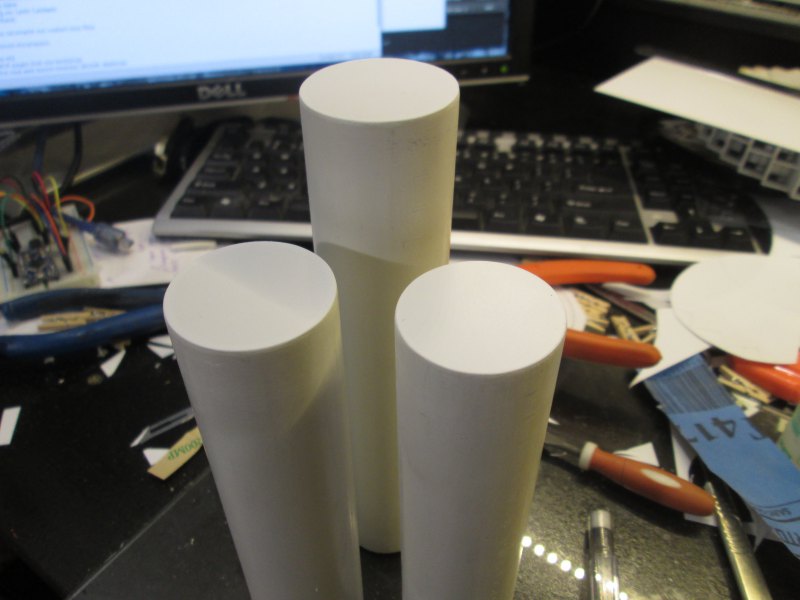 A bit of sanding around the edges, then some filler on the embossed lettering, and finally a few good coats of matt white spray paint. At long last the end is almost in sight!