Railways in Europe - Part 1: Greece
Please excuse the cobwebs, I was over in Europe for three weeks with Mrs A and 21 smelly teenagers on a Greek/Roman history field trip. While mostly history related, I did manage to sneak in some sly railfanning here and there.
Our trip started in Athens, Greece. Not a whole lot to see in Greece, railways wise. The national rail network (OSE, for Hellenic Railways Organisation) is in a bit of a sorry state, and the country's geography isn't the most railway-friendly so many of the lines meander. That said, apparently they have the fifth largest (by length) railway network in the EU. Between government cuts, creative accounting, and a mix of rail gauges, things for OSE are pretty dire. In many ways they are the poster-child of the Greek financial crisis, as OSE's annual debt interest payments alone are three times what it earns in revenue! Quite how one turns the tables on that situation I have no idea.
Athens
My introduction to European railways started on the drive in from the airport, where a very modern high speed line (160km/h) connects the airport with Athens. As we drove along the highway a very attractive EMU kept pace with us, painted in an attractive dark blue mural paint scheme with various birds on it. Rachel snapped some photos for me on her phone since my camera was still packed away, however they seem to have gone missing in the wash. Here are some photos of an similar train though.
Exploring around Athens, I was pleased to discover a "railway" at the Parthenon: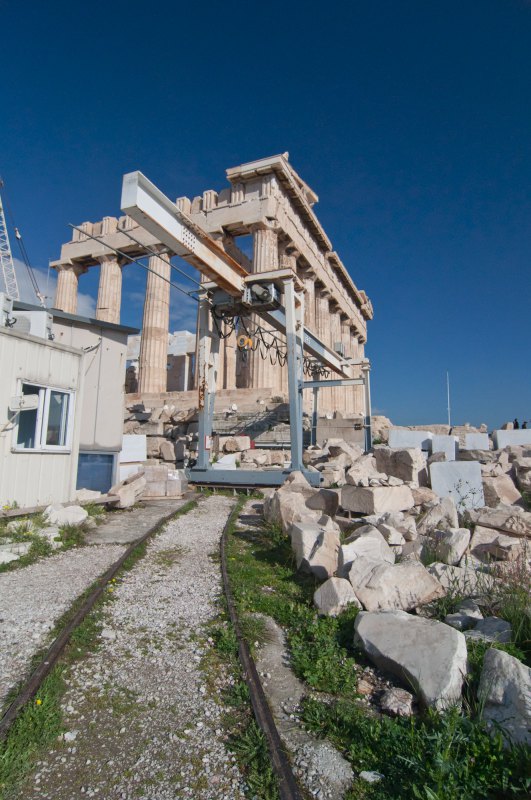 For the 2004 Olympics, Athens built a new tram network with rather fetching tramcars designed by Ferrari designer Sergio Pininfarina.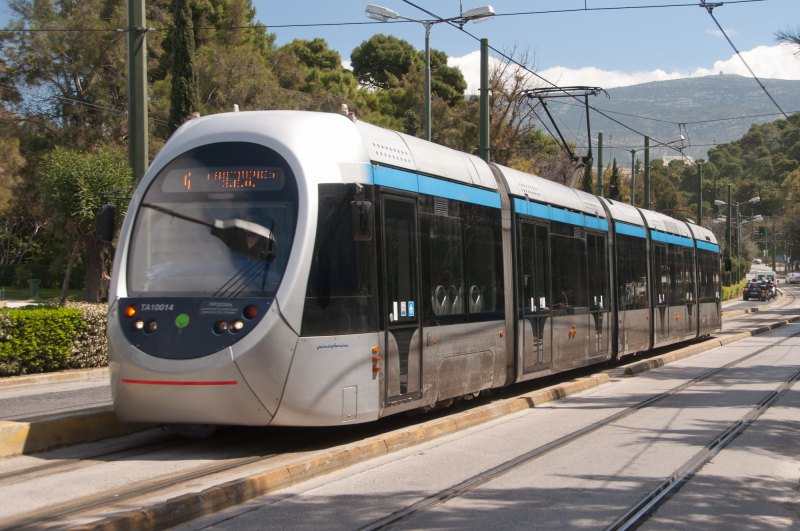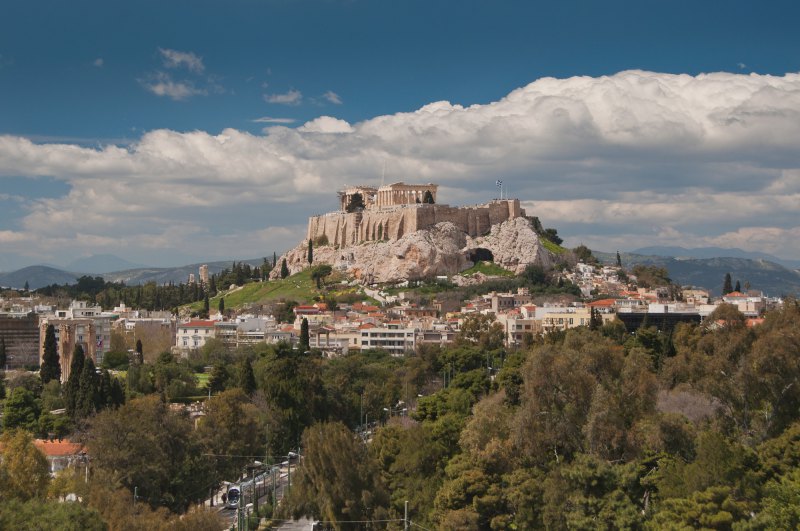 I also spied their metro, covered in graffiti and looking a little unusual running in the fresh air. Note the third rail conductor and lack of overhead. Very metro. Note the marble ruins. Very Greece!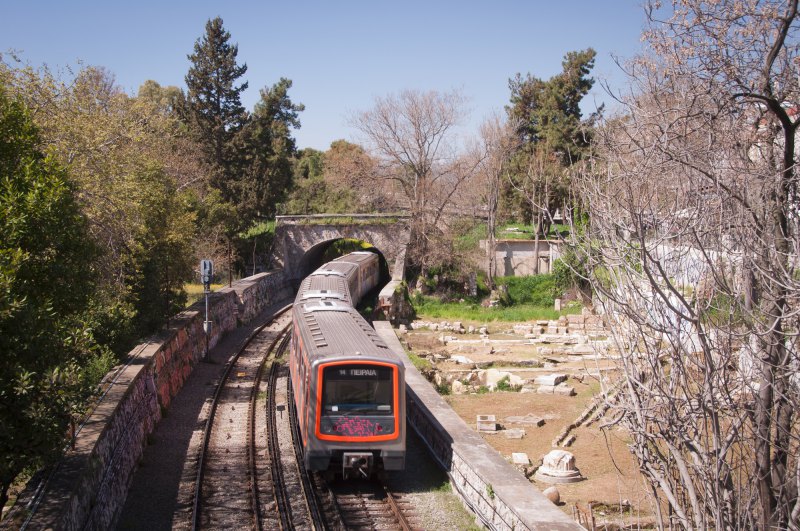 After Athens we headed off for the Peloponnese Peninsula, which is home to the metre gauge lines of OSE. I saw miles and miles of track, but not a single train. Then again, I've heard that a train driver in the mountanous regions of Greece can have a salary twice that of a well paid teacher back home, and those trains usually run empty! So naturally when the authorities (read, anyone loaning money to Greece) began looking for fat to trim, the metre gauge network was the first in line for compulsory dieting.
Driving from Mycenae to Olympia, we traversed the peninsula. At Kουτσοπόδι we crossed over the lines and saw a typically forlorn looking station, with rails showing little evidence of use: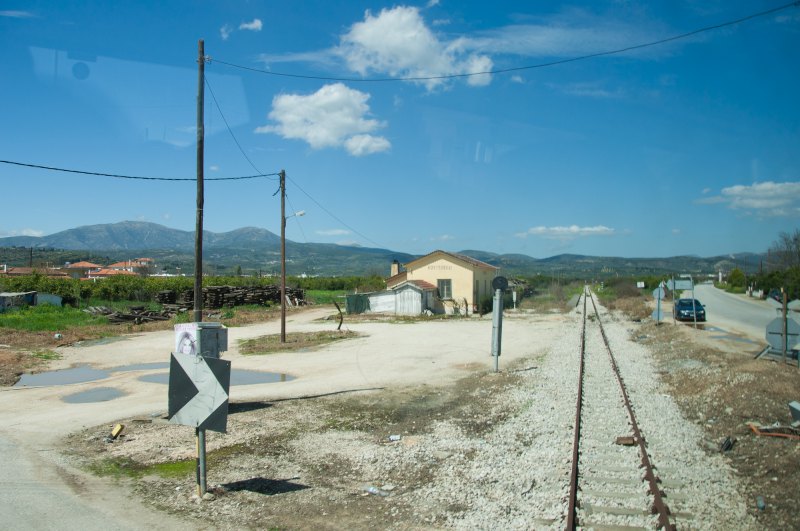 The station at Mycenae is much nicer, see here for a photo: http://www.panoramio.com/photo/22654252
After that we headed through a long valley on the E65, then later then E55. Here we followed the Kalo Nero – Zevgolatio line. A very pretty line, full of viaducts, it would be amazing to take a ride through here.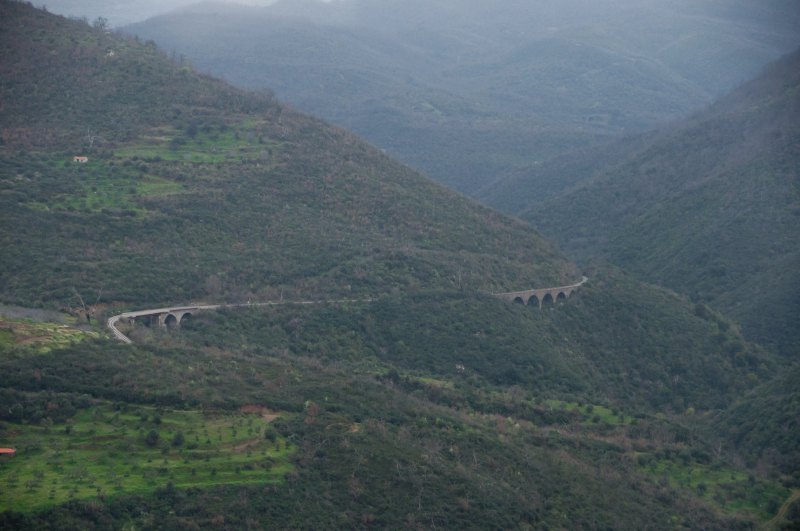 Here is a video from part of this line. Finding videos of any railway line in Greece is very hard work, as I've discovered place names are very fluid in their translations, with the sound rather then the actual spelling being more important. You'd be amazed the number of ways to translate Delphi, or Olympia, or Mycenae in English!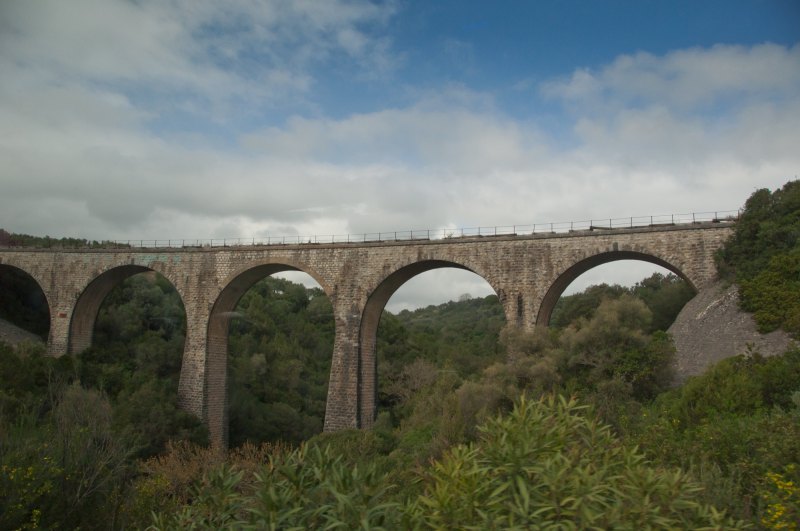 To give an example, a large junction on the railway is at Πύργος. I've seen this translated as Pyrgos, Pirghos or Pirgos, even official sources differ in their translations; even road signs on the same road will have different translations between signs!
At Olympia we had some free time and I was excited to find that the railway line terminated not far from our hotel.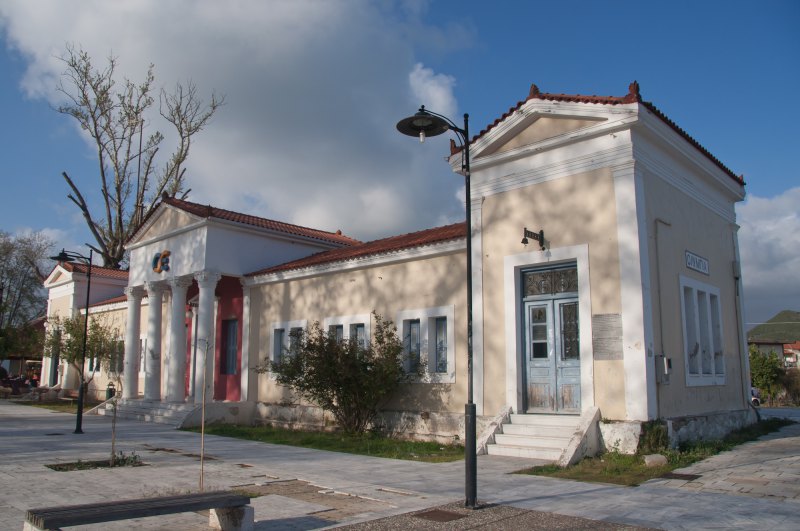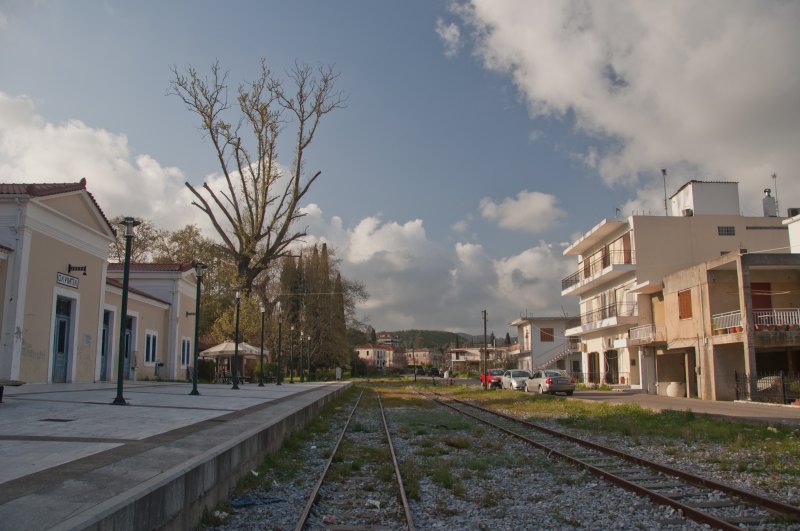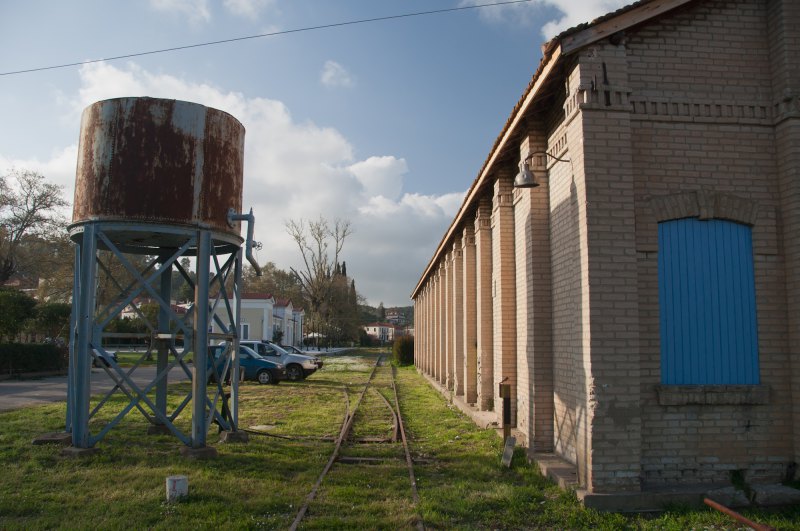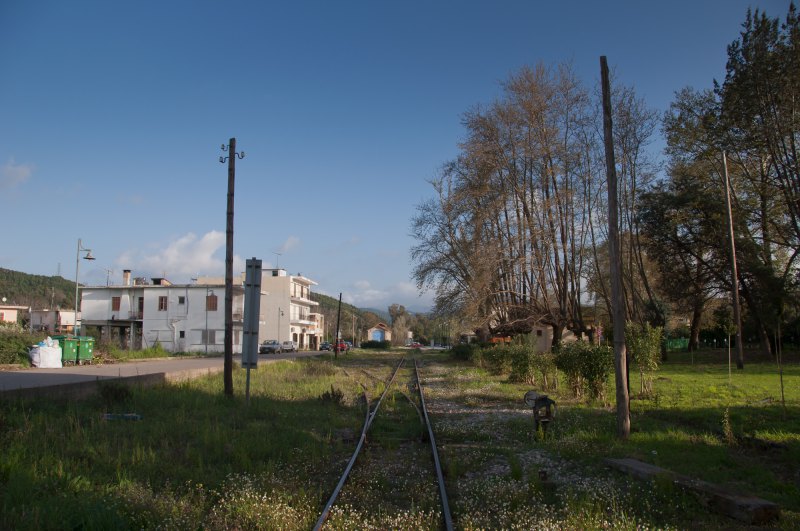 What I didn't realise was the line is well and truly out of use. Still a cute spot though, very pretty with the daisies growing between the tracks. Part of the station has been turned into a cafe, and the rest of the station looks well maintained.
After Olympia I didn't see any more trains until we reached Καλαμπάκα (Kalampaka, Kalambaka, Kalapaka, etc), although I did see plenty of evidence of the electrified main line between Athens and Thessaloniki, and a single abandoned works wagon parked in a siding.
Kalampaka is terminus of a branch line on the former Thessaly Railway, recently upgraded to standard gauge but not yet electrified. At the station was a very heavily graffitied intercity train with a German made Adtranz loco.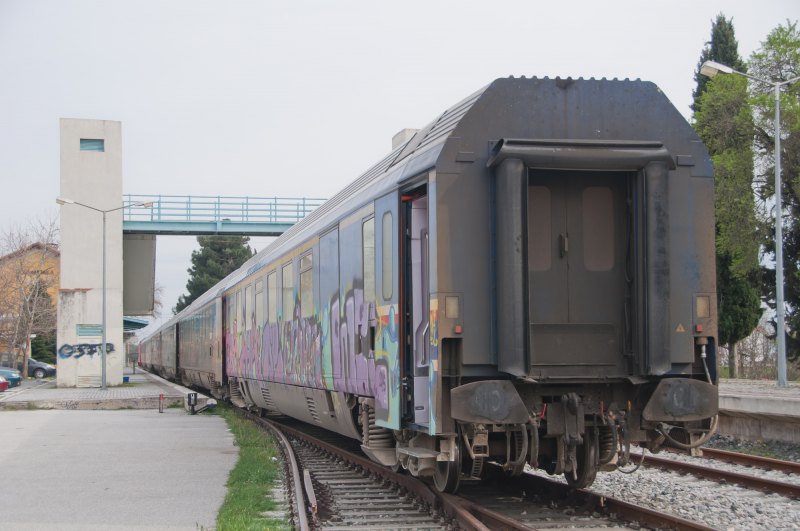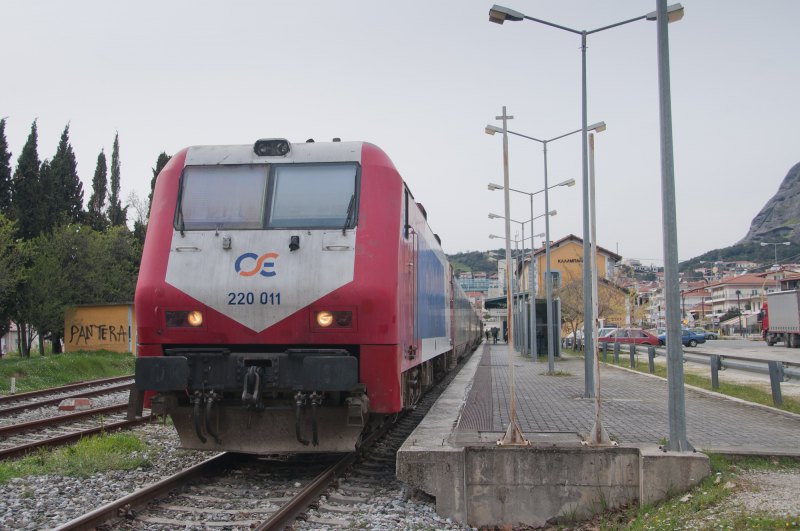 The carriages themselves looked nice enough inside, but the heavy graffiti sure made it feel run down. I missed the departure of this train, however well into the night and from early the following morning there was a railcar service every couple of hours, appearing to stick to no particular timetable and making a heck of a racket with its horn at each crossing.
After Kalampaka we made our way in to Italy, a place with many more trains...