Railways in Europe - Part 3: France
My journey through Europe continues, this time in France...
We arrived very early in the morning on the Thellõ, as in 6am early. Europe is pretty chilly at that time of the morning, but Dijon was fairly alive. We had a few hours to kill so I went exploring.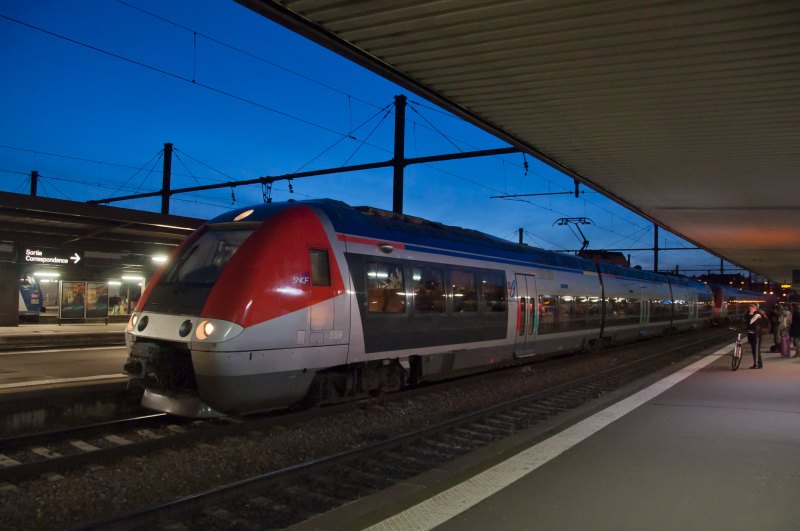 My first introduction to the SNCF, there was lots to see. There were articulated electric units like the above, articulated diesel multiple units like below, articulated TGVs, and loco hauled trains.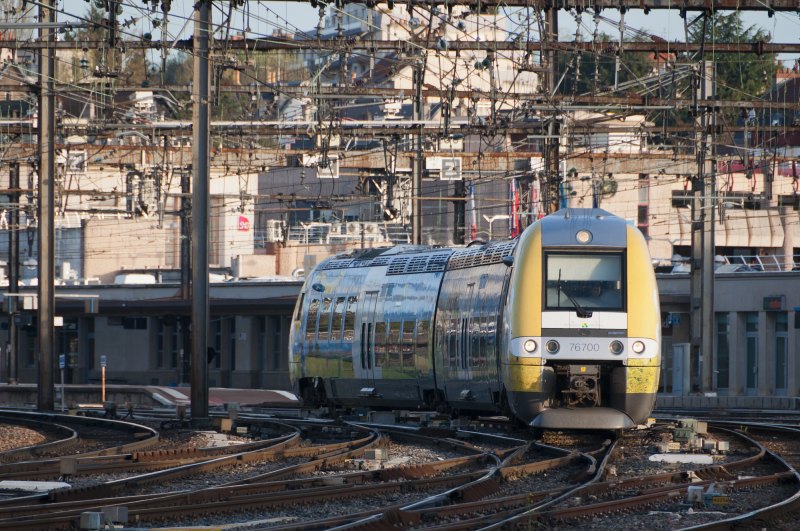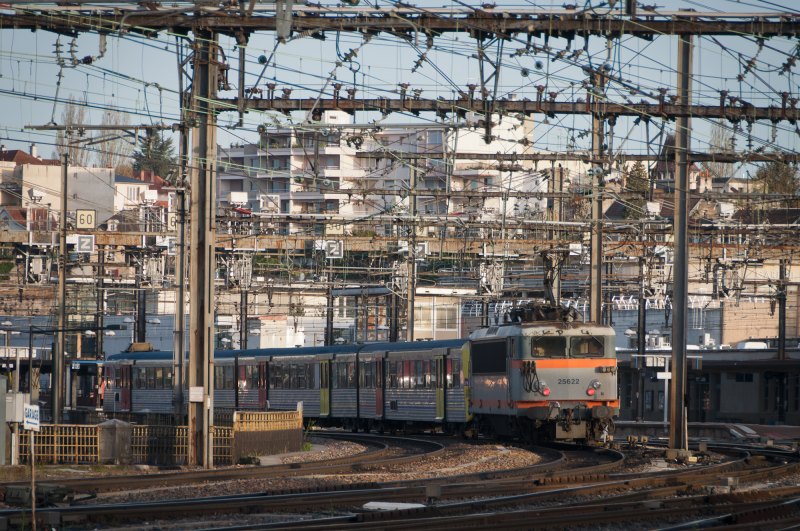 Outside the station was a busy tram line, featuring bright pink trams: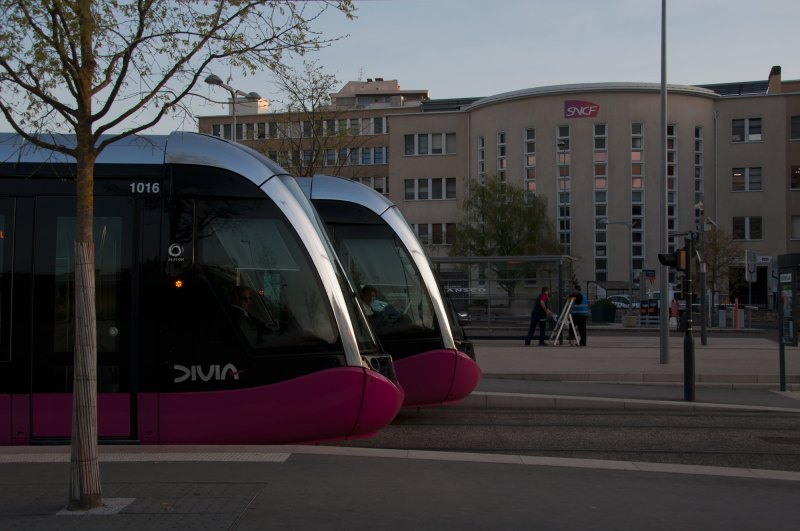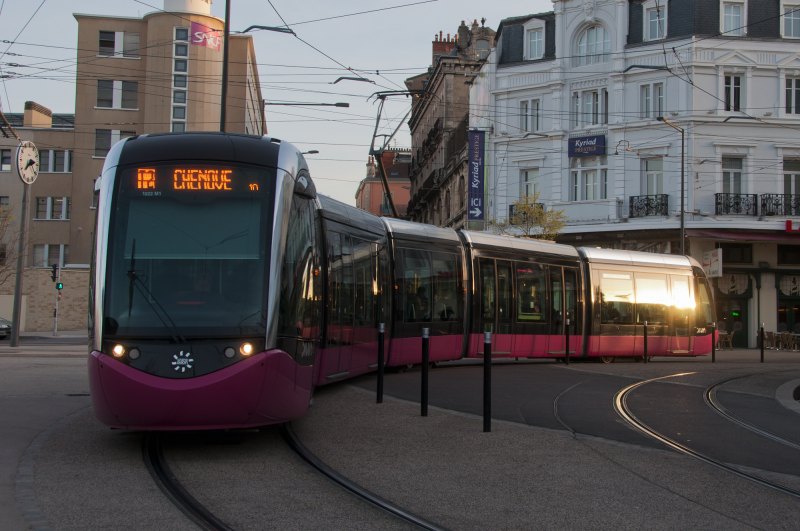 After a few hours here and a breakfast successfully ordered in French, it was time to board our regional express train to Lyon. Myself and Mrs A found a completely empty compartment car with great bench seats and huge windows. We curled up on a seat each and watched the countryside quietly whiz by.
Arriving at Lyon we had a quick change to the ultimate in French travel: the TGV!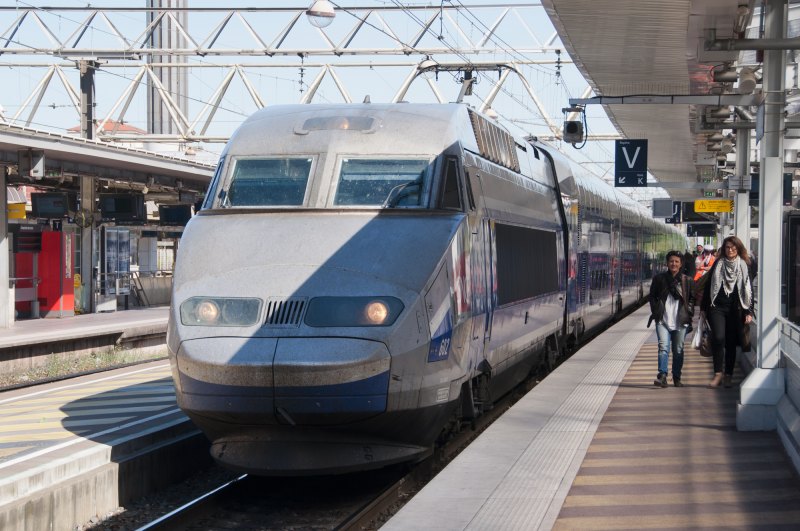 We were in a TGV Duplex, which are a double decker train. Unfortunately for a class full of students with ensuing luggage, they are rather cramped. Luggage space is very small, most of it being up a narrow flight of stairs. As a result we rather delayed the train at Avignon, taking a a lot longer to unload than train was scheduled for. All I can say is that myself and Mrs A had tried to avoid this, but the powers running the trip ignored our suggestions as they didn't think it would be an issue. The very angry French guard and station attendants would suggest otherwise!!! Kiwi-time does not extend to the Continent!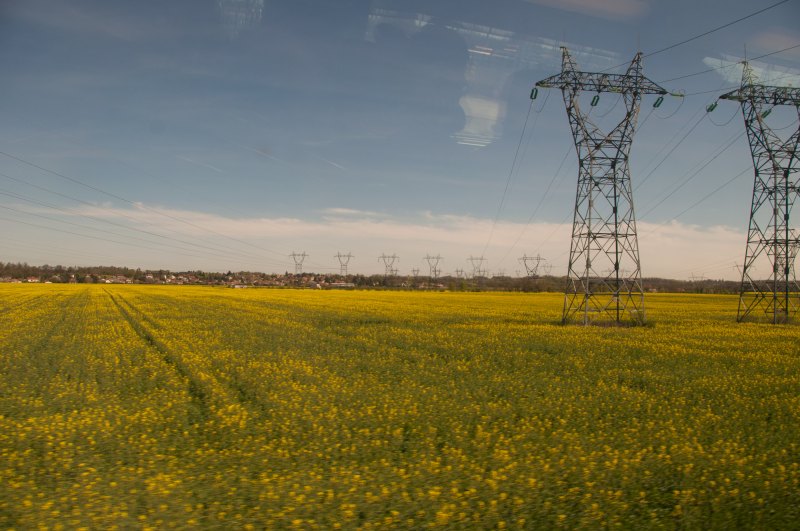 So not quite a Shinkansen in terms of room and luggage storage. Speed was great though, 320km/h feeling like a walk in the park. The southern France landscape was beautiful, with fields of flowers stretching for miles.
Avignon Station was very pretty with its wooden platforms and elegant forecourt, unfortunately we were not permitted any idle time so my explorations of this award winning architectural marvel will have to wait for another time.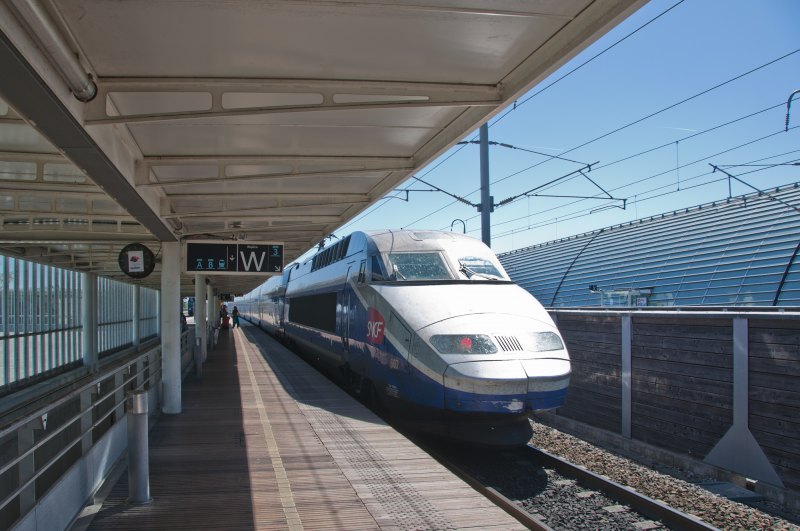 After exploring the Pont Du Gard and other attractions in Nimes, Orange, etc, we board another TGV Duplex for Paris. This time we had our unloading routine down to mere minutes! Some confusion over locating a bus meant I had a bit of time to explore the expansive Gare de Lyon.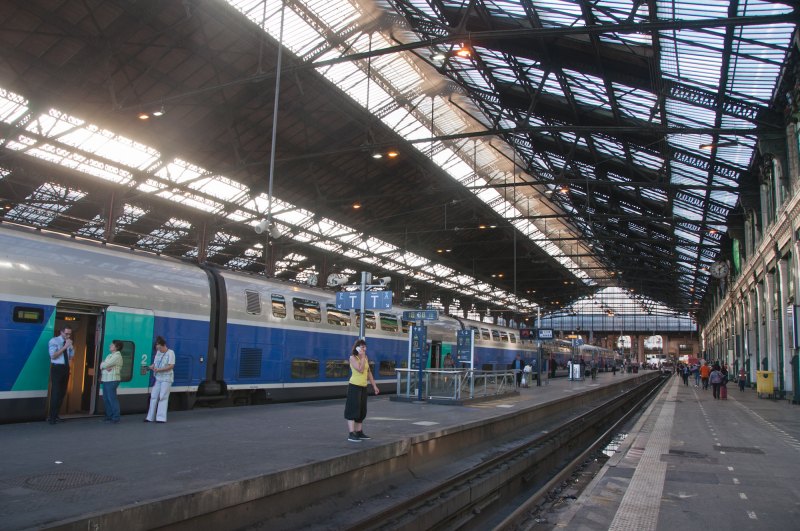 A great "train shed" covering many tracks of TGVs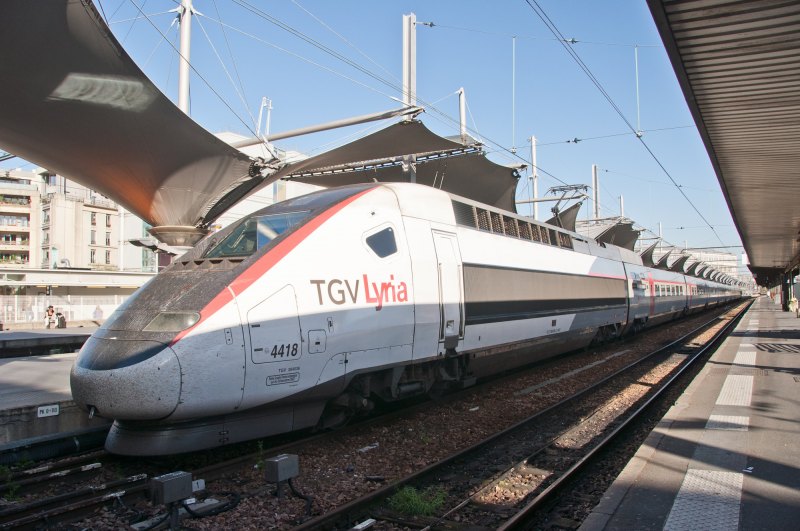 A TGV bound for Switzerland, looking super luxurious. Note the elegant station roof made from sails.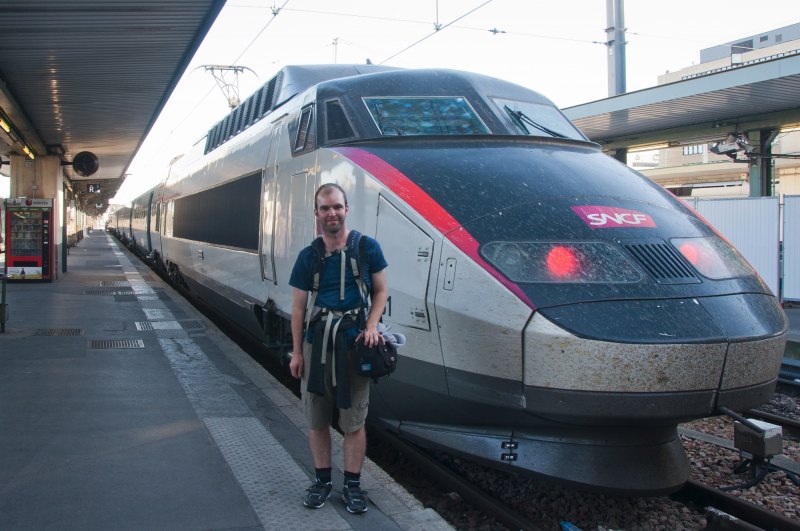 Yours truly hastily snapped next to a TGV Sud-Est
I was very exciting to get a photo with a TGV Sud Est, which is the original TGV design, and one that I own a model of (albeit in an 80's burnt orange livery).
Once in Paris, we made extensive use of the metro, which is an odd mix of rubber wheeled trains riding on steel track, and more traditional railway-style trains. The rubber tyred vehicles were rather bouncy I found, and I think newer lines have favoured steel wheels.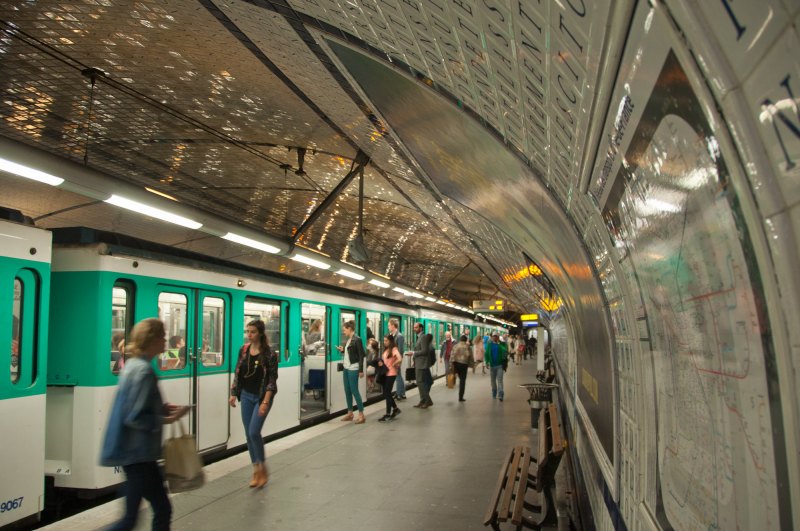 Note the interesting subway tiles, looking more like Scrabble tiles
That said, the trains were a lot cleaner than our metro experiences elsewhere in Europe! The metro is quite interesting, having a very high density of stops and often running on elevated tracks. From our hostel we were no more than a few minutes walk from the nearest stop, and indeed had 3 different stops to choose from, and an RER stop.
The RER is a "long distance" metro, running bigger trains, faster, stopping less frequently. This can cut down a trans-Paris journey quite considerably, the downside being that at rush hour things can be rather crowded: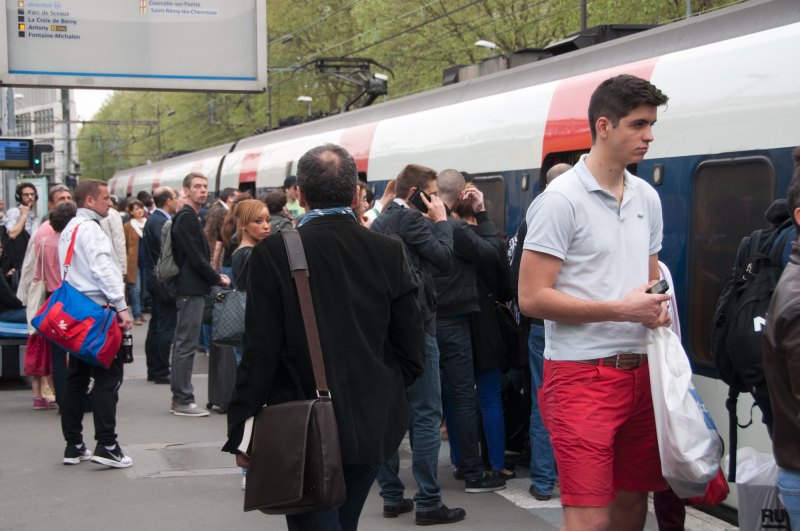 We had a few experiences of such commutes, one trip being sandwiched between people with barely even breathing space. This came as quite a shock for some of our small-town NZ travelers! However we all made it in one piece.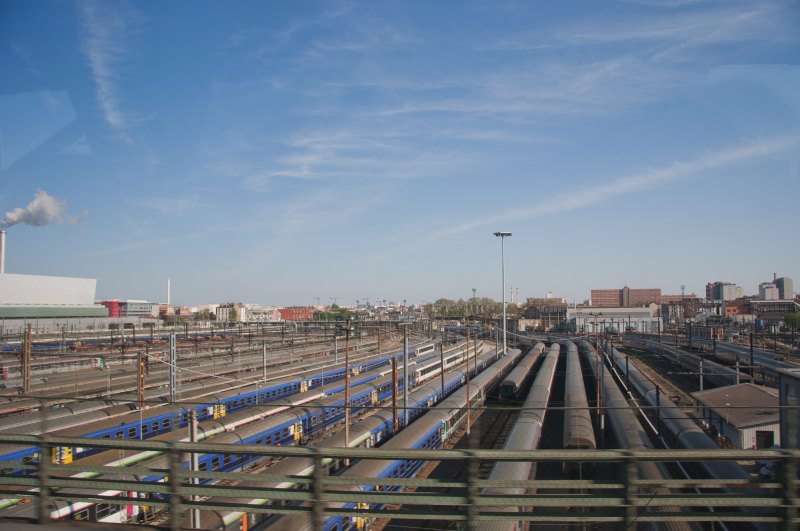 SNCF storage tracks on the way to the airport
One day I did a side trip to Gare du Nord, the gateway to all places West on the Eurostar. I was very excited to see lots of red Thalys PBKA (as in Paris, Belgium, Cologne, Amsterdam) TGVs lined up, as I also have a model of a Thalys.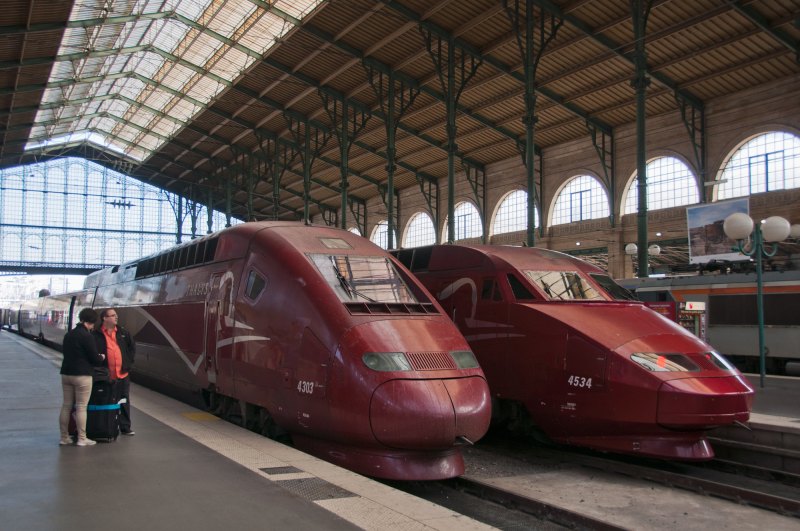 TGV Thalys, again note the amazing station ceiling
On our final day in Paris, myself and Mrs A led a trip to Montmartre. After criss-crossing the city on the Metro and walking through tiny cobbled streets we emerged at the foot of the Sacré-Cœur basilica.
Besides the amazing cathedral, I was very excited about riding a real life funicular. Mrs A knew there was a funicular here and was keen for me to see the real thing after modelling one in Ranuska.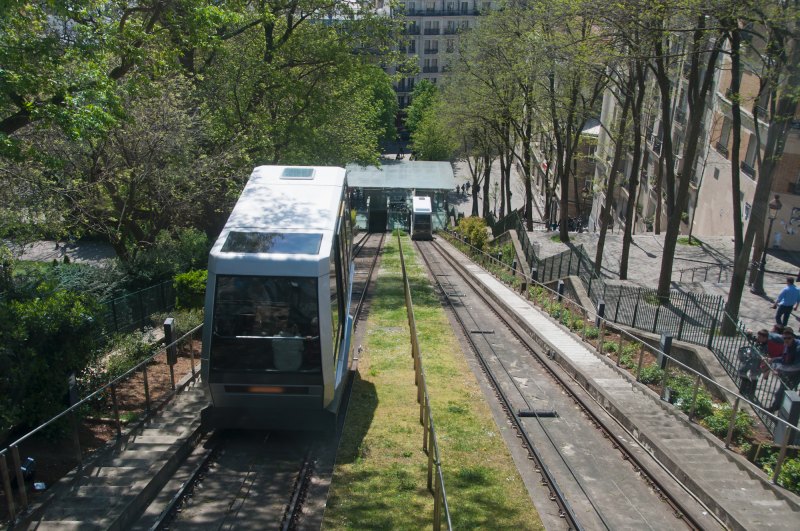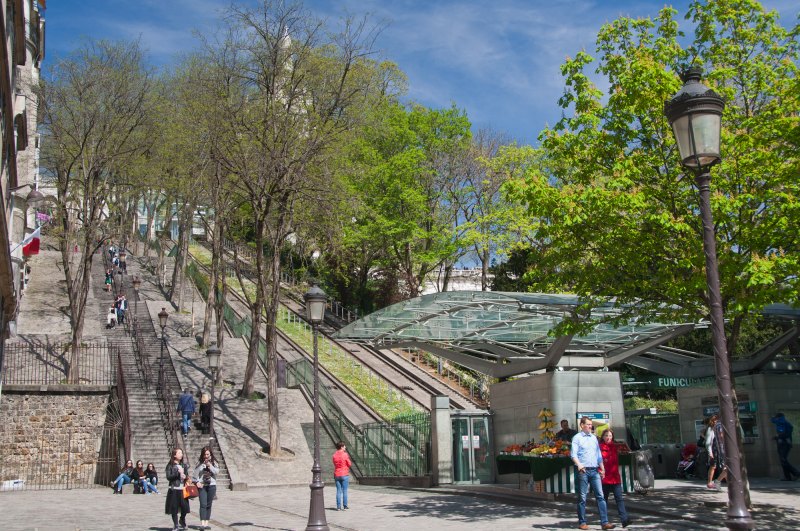 The whole journey only takes a few minutes and is probably a waste of a metro ticket, but I had a day pass and where else can you ride a real life funicular!?
On the whole I enjoyed experiencing the railways of France, and the trains of Europe in general. I see now that there is renewed pressure to privatise Greece's railway system as talks continue about austerity measures and a return to profit, however I wonder if anyone would dare buy OSE? Italy and France are faring better, with Paris being hailed as one of the great cities where public transport really works. Of course there are still many great European cities left to explore...