The COBOL building
A slight detour as I build something of a "tribute" to one of my favourite blogs...
Recently while reading 30 Squares of Ontario, JD's FORTRAN building popped up. I've always admired the building; something about its shape and simplicity. Plus I liked the name. So I decided to build my own interpretation of it; helpfully, JD included his drawings and enough dimensions that I could easily make my own in N scale.
After a quiet evening with Inkscape (plus a little Ruby scripting to generate randomly opened window blinds) I came up with my working drawings: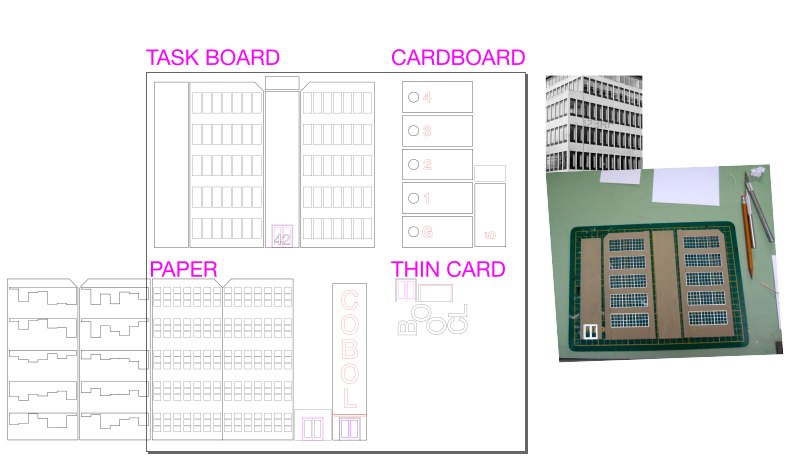 I have my workflow nicely set up now, so that black lines are cut, red lines are etched, and pink is just informative.
And then after cutting: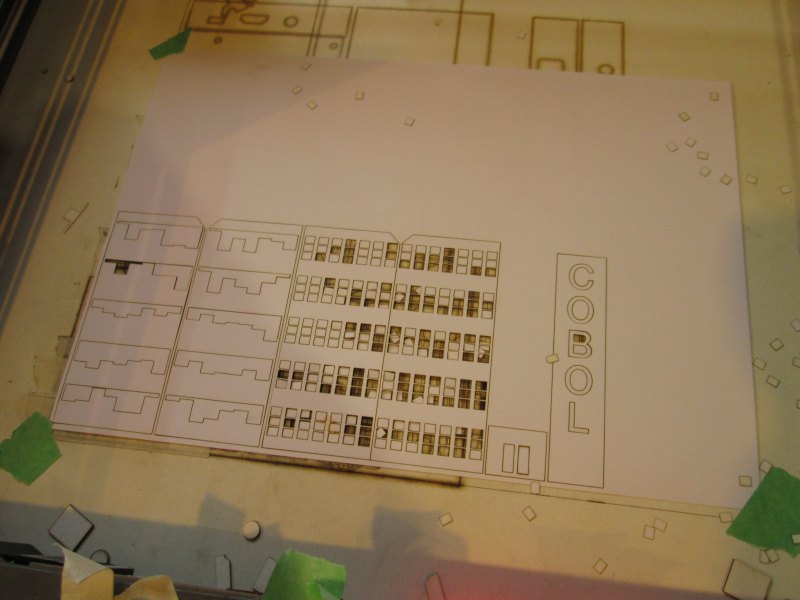 ... all those window cut outs get blown all over the place, but the final result is some beautifully cut out blinds and window mullions. The glazing bars are just 0.5mm wide! They're cut from heavy printer paper, which cuts very nicely on the laser.
The walls were cut from my new wonder material; taskboard. I'm using 1/32nd inch thick board, which cuts amazingly well on the laser with just a single pass. After sealing it and painting with some concrete paint, I laminated together the walls, clear styrene for the windows, and painted blinds. The resulting laminations look pretty good!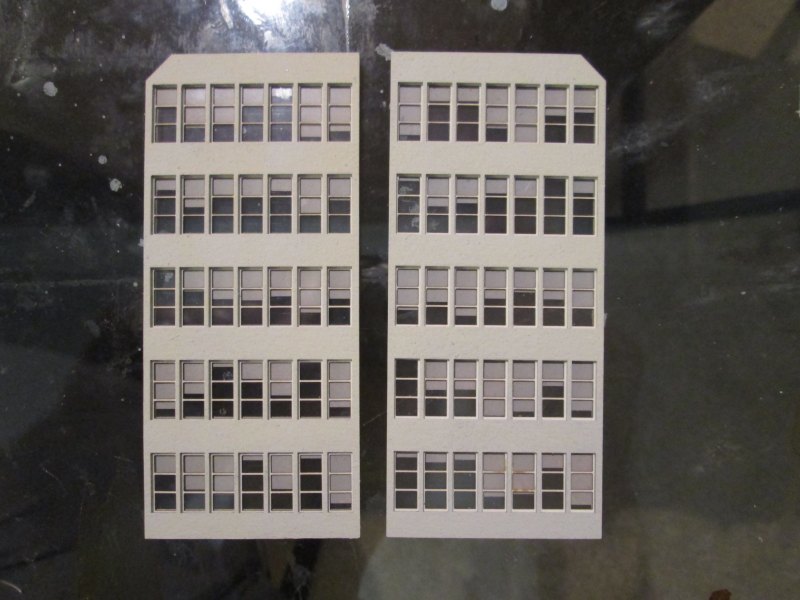 Next diversion was to make up a fancy sign. JD's building was the FORTRAN building, named after a very old programming language. I decided to name mine COBOL, after a similarly prehistoric programming language. So some Helvetica letters were cut out, and turned into a mold.
I made the mold out of Vinamold, a re-meltable rubbery vinyl-esque material. While it sounds amazing – no more wasted silicone! – it is a real pain to use. For one, it needs to be melted, which means you can't use epoxy glue (it melts), styrene (it melts), hot glue (it melts), enamel paints (they go weird), etc. You're limited to: cardboard, wood, and PVA glue. Oh and it shrinks alarmingly as it dries! Anyway, bearing all those things in mind I managed to make up a mold and cast some letters in mostly-clear epoxy resin.
After removing the flashing and cleaning up the edges, I had a nice set of letters. I glued them in to corresponding holes on the front wall (ahh laser cutter...) and had myself a light up sign.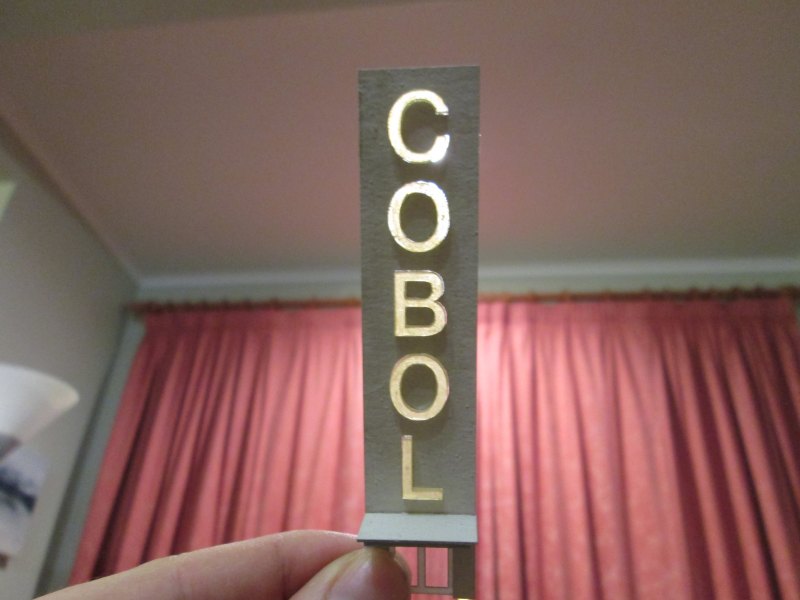 Behind the sign I made up a light box with some blue LEDs, one behind each letter. You can see it as the big black box in the next photo.
With walls and sign taken care of, I moved on to the inside of the building. Some desks were cut (yes, on the laser), as were partitions and floors. I painted everything good drab programmer colours, and painted the people a dark grey matt colour so that they would only appear as silhouettes through the windows.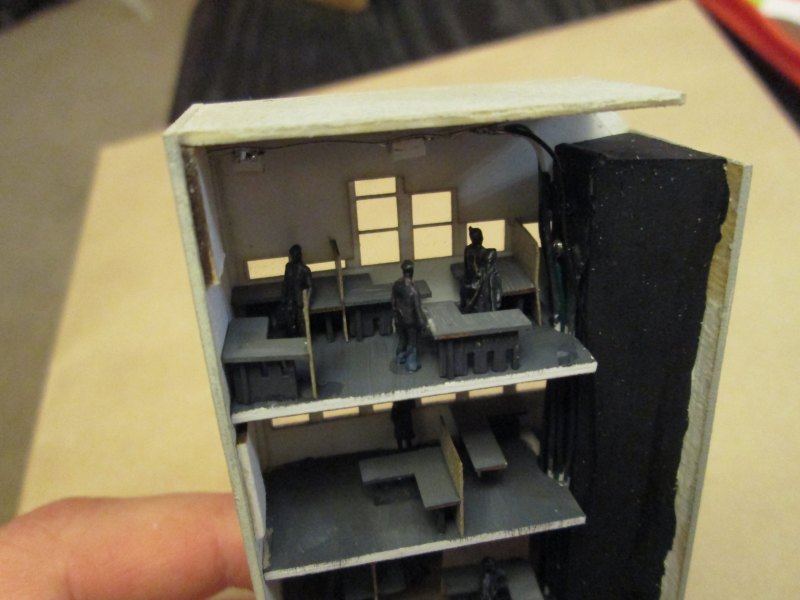 On a couple of the floors I wired in some LED light strip, modified with some very large resistors to dim the lights down nice and low. I find that regular LED light strip is incredibly bright.
A bit more glue, some filler, touch up a few bits of paint and it was all done.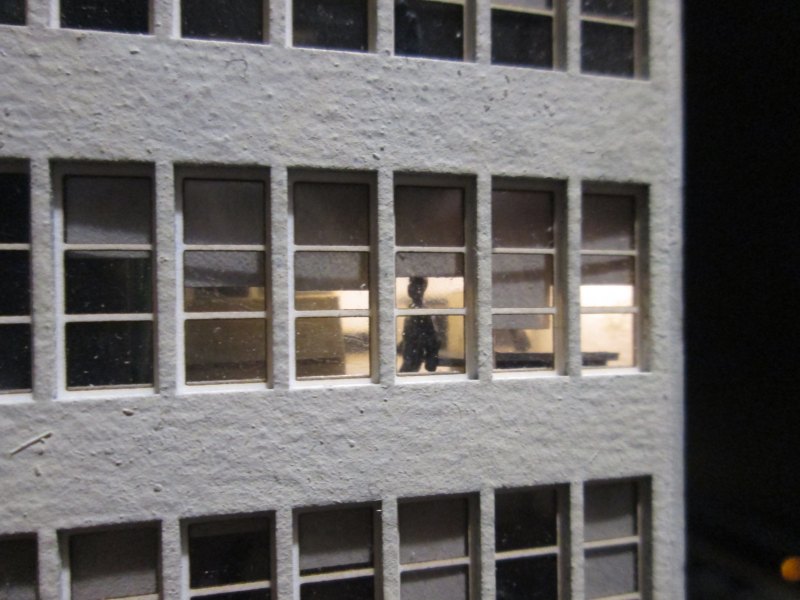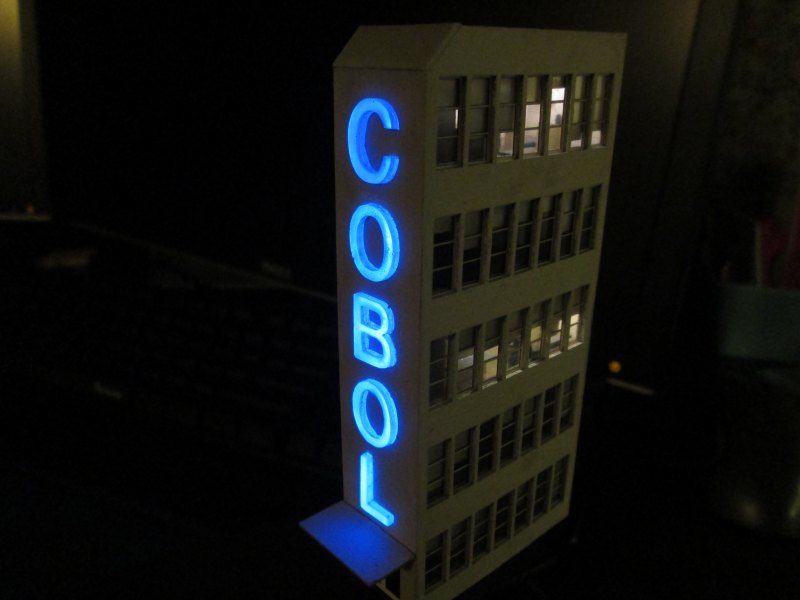 I'm very pleased with the finished result; especially the big glowing letters and soft interior lighting. I also love how nicely the windows came out. And while I can't take credit for the style of the building, I feel it really has that 9 till 5 look about it, a place where TPS reports are filled out all day and everything has to be run past 5 different managers. Those poor employees!
Oh and happy birthday me :-) Here is what Mrs A came up with... ignore the sketch pad and matt medium containers in close proximity, not to mention the laser cutting swarf...