Not trains
A bit quiet on the blogging front, but not for lack of progress...
Yes after a brief jaunt down to Christchurch for a quick holiday, I am back and the coffee table has once again succumbed to glue bottles and paint tins and little bits of cardboard. Mrs A is very tolerant!
Wildcat
The Wildcat that I have been quietly working away on has now been completed. I gave it a good spray of silver Tamiya paint, then left it alone for a month. The other day I decided to test out Indian Ink for weathering and reached for the Wildcat. I mixed up a weak mix of ink and isopropyl alcohol and washed it on the model. This nicely brought out the panel lines. Then I used the dregs to loosen up some dried up paint on the bottom of my paint tray and washed that on too. Finally I did a third wash of Indian Ink and IPA, but this time something interesting happened. The IPA loosed up the acrylic paint mix from before, and when rubbed with a finger tip, it went all blotchy, making it look very unloved.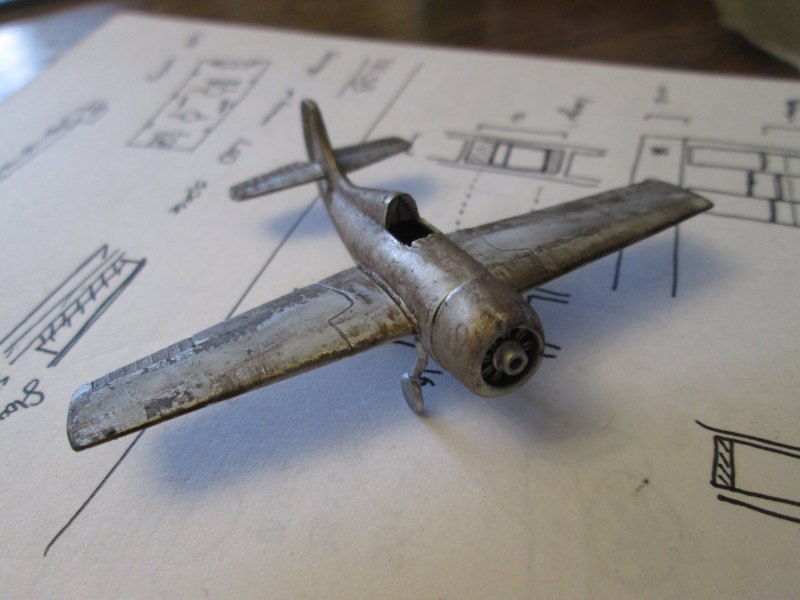 I quite like the effect I've decided.
Tonight I painted up some tissue paper and once dry, scrunched it up into a tight ball, then unfolded it and glued it down onto the model.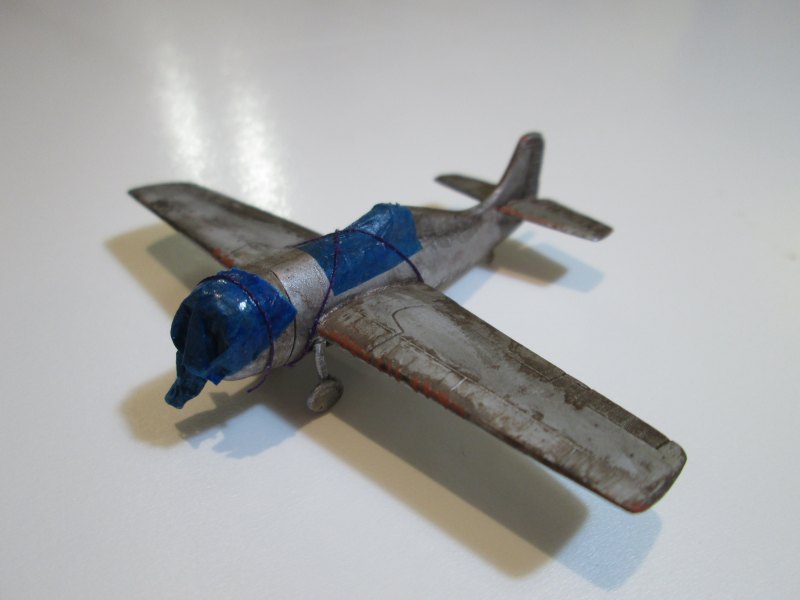 I'm not 100% sold on the ropes holding down the tarps, but they'll do for now. I'll need to make up a scene with lots of long grass and a rusty shed, with bits of old cars lying around.
Boat #1
Passing through Wellington on our way south, my sister gave me a package. Inside was a Tomytec kit for this wee fella: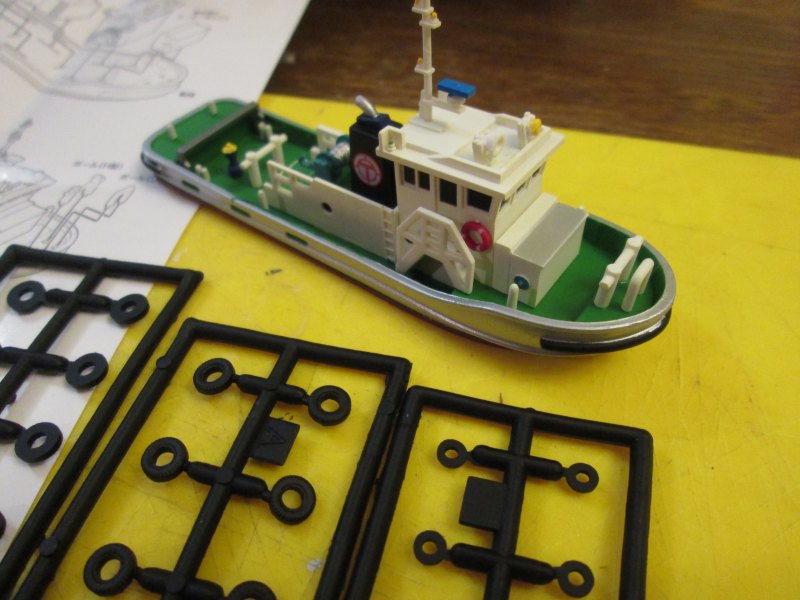 About 5 minutes of assembly time, everything snaps together and then just glue on the tyres. Very fun to put together, and doesn't it look great too!
This then led to a slippery slope where I started eyeing up papercraft boats online... leading to...
Boat #2
What has my sister started? Well I soon found a free set of plans for a Delta workboat. Just print them out and glue it together. That sounded too easy, and I have a laser cutter, so as an exercise I redrew it in Inkscape, designed to be printed, and laser cut.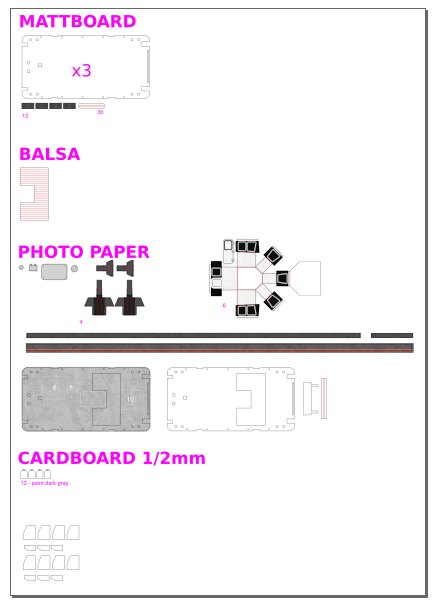 A most interesting exercise, I now know how to:
Dismantle my printer,
Purge bubbles from the ink lines in my printer,
Clean my printer,
Reassemble my printer,
How many cleaning cycles it takes to clean the magenta print head on my printer (about 15, at 3am...),
What settings to use to get the best results from my printer,
How to line up printed sheets in the laser cutter,
How to print on, and laser cut the same piece of paper,
How long inkjet ink stains your skin for (about 24 hours),
And that my inkjet ink is water proof! Which is great, glue and paint won't cause it to run!
And so after that ordeal, I can design a shape in Inkscape, print it out on photo paper, take that out to the laser cutter, and cut out the perimeter and all the little holes. Pretty handy!
And so that is how I ended up with a floating workboat platform, with barely anything hand cut: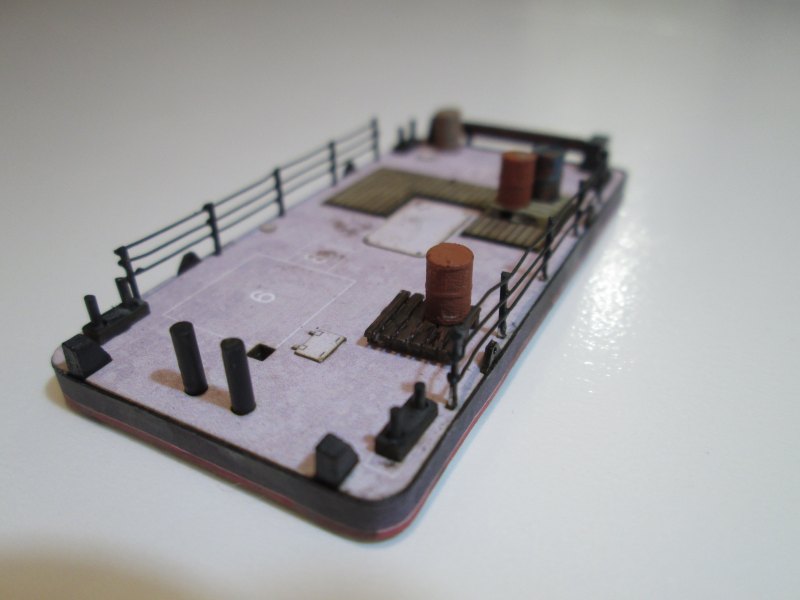 It is a bit of a who's-who of laser-cuttable materials, featuring:
250gsm inkjet paper,
0.5mm cardboard,
1mm cardbard,
1.5mm mattboard,
0.4mm plywood
Along with hand soldered wire handrails (0.3mm jewellery wire and chunky LED leads), and little bits of styrene and brass for various other details. It isn't finished yet, which is why there is a big "6" on the deck, but I am quite happy with it. Soldering up handrails though... yikes. I blame the father-in-law for the inspiration on that one, he said it was easy!
I guess now I need to build a harbour?? First though I am determined to a) clean the coffee table, and b) get trains running on Mt Adams. Less projects and more action!