Mt Adams weekly update
Another week sails by on Mt Adams...
Lots of mixed weather here this week. From torrential downpours and snow flurries, to baking heat and cloudless skies! While the rain poured down I busied myself with inside jobs:
Wrote a program to play sounds while I drive the trains; I can now toot the horn for each tunnel, and open and close the doors at the stations.
Added more rocks to the canyon scene.
Painted up the bridge girders for canyon scene.
Made and installed more tunnel portals.
Painted up the Japanese-style retaining wall in preparation for scenery.
So lots of little odds and ends getting attention.
My main goal for the weekend was to get the station platforms installed. I always struggle a bit with platforms, and this was a pair of platforms on curves, so even more complicated. I made up the frame from Palight PVC foam, and laser cut some Taskboard for the surface, adding in some stone edging details.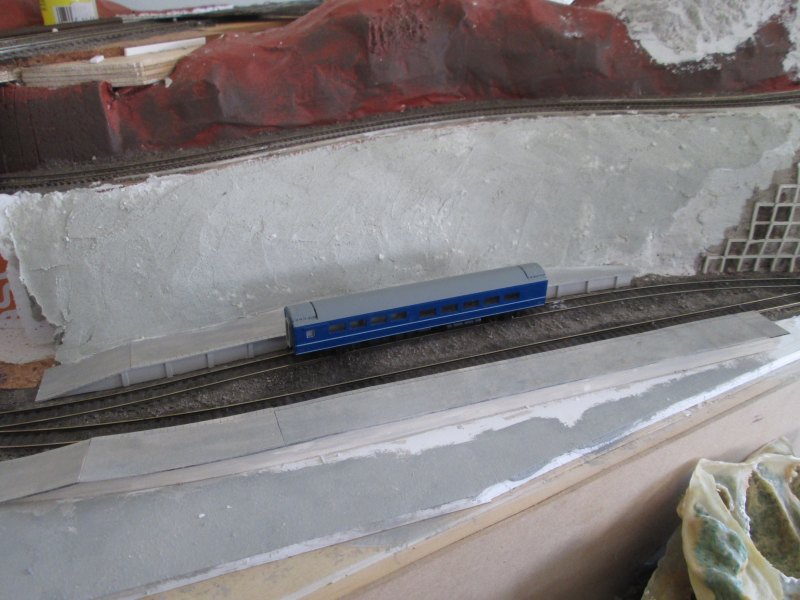 The still need a bit of weathering and detail so look a bit plain currently.
Making the most of the beautiful sunny day we had here today, I took the railway outside to do some "messy work" out on the deck. I cut back profiled the embankment behind the lower station, and put on a coat of tile adhesive/plaster of paris.
While out there, I made up the lower station tunnel portal and scenery from lots of polystyrene.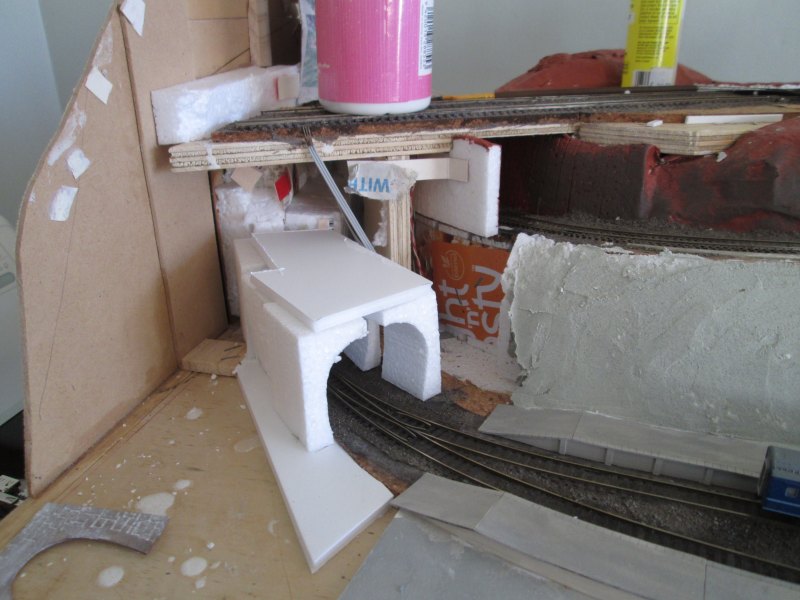 Then I squirted in the remnants of a can of urethane foam filler and built up some more scenery.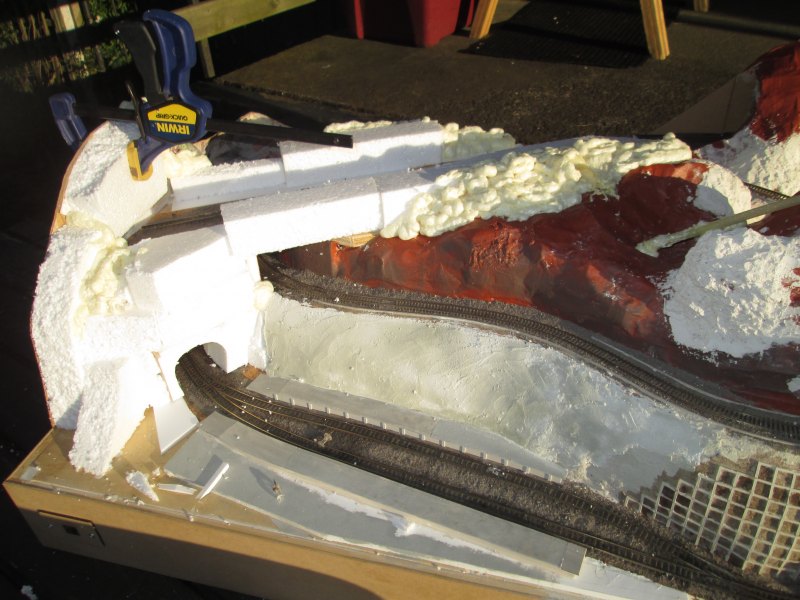 And while at it, I added some more rocks around the back of the railway. I want to get all the messy rock and polystyrene work done before I start adding scenery, as the chippings go everywhere and I can do without having to vacuum little white polystyrene beads out of all my scenery.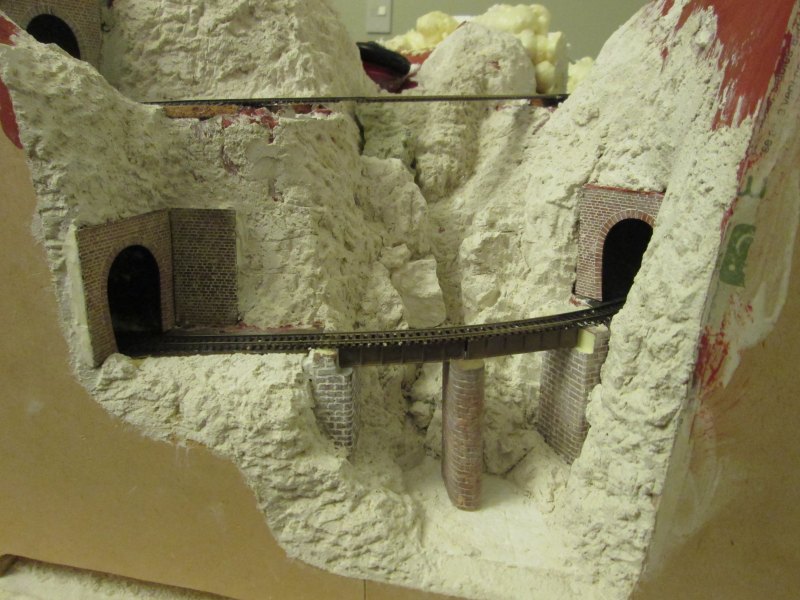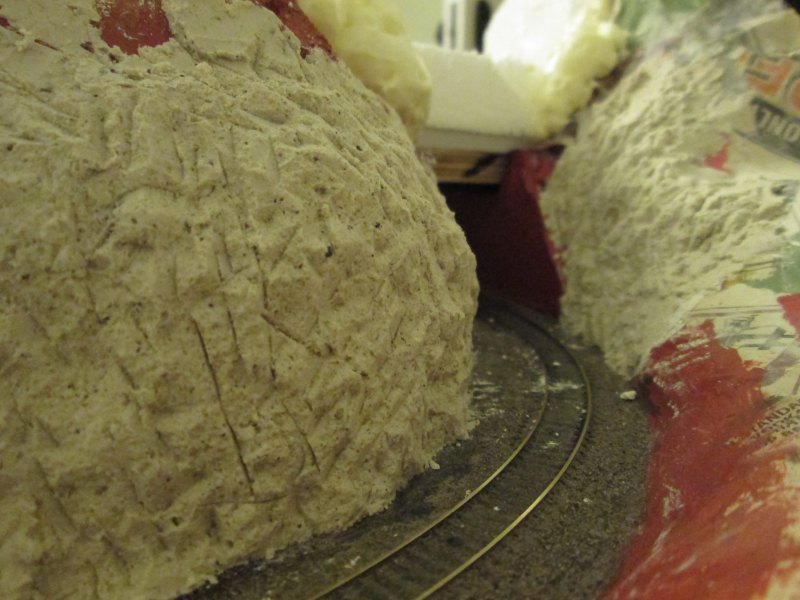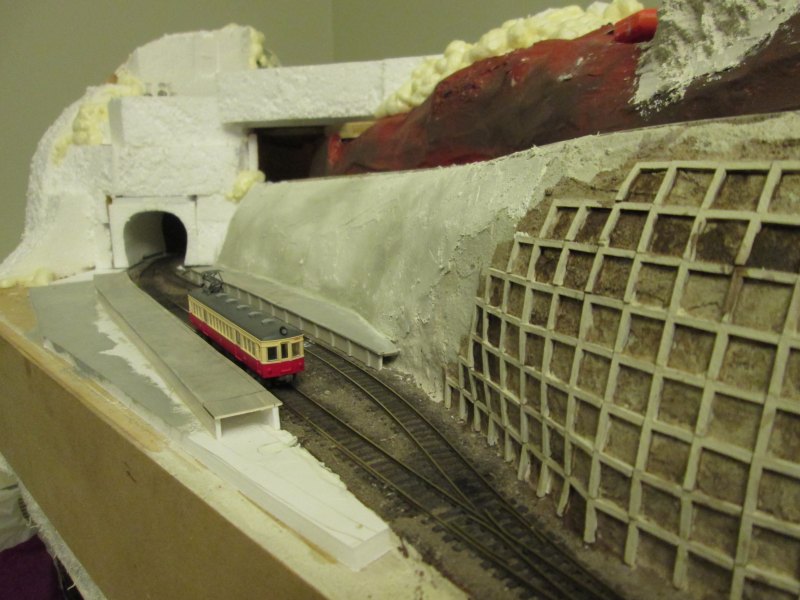 So slowly getting there, hopefully by next weekend I'll be able to some greenery.