Scenery and buildings for Mt Adams
Another Sunday, another Mt Adams update...
More excellent progress this week, helped along by some good rainy weekend weather.
Platforms
I wasn't especially happy with my platforms as they stood last week. However today I masked off the flagstones and used my trusty foam roller and some Resent "Half Gravel" paint to add some asphalt colour to them. The foam roller gives a nice fine texture, and by adding a little of the concrete colour to the roller, I can create nicely varied tones.
I then dug out my Woodland Scenics yellow roadway marking pen and used it to add in the yellow safety line around the edge of the platform. I discovered very quickly that a ruler is essential! Although if your platforms are curved like mine...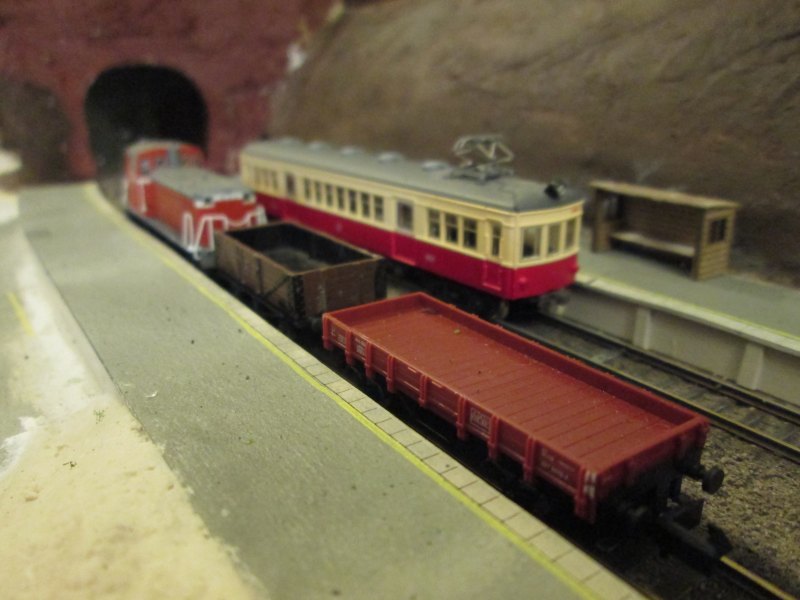 Anyway, after some careful lining, I now have pretty good looking platforms. Next step will be to weather the fronts of the platforms, as they are currently far too clean.
Upper Bridge
A very quick delivery from Japan during the week meant that the upper bridge has come along nicely. I used a Greenmax truss bridge kitset, which made it easy to trim to length. It is a very detailed kitset, with lots of rivet detail and so forth. Still it went together nice and quickly, with no flash on any of the castings. I had fun weathering it with some of my new Vallejo Air paints (Earth, Concrete, and Rust), watered down with IPA.
Installing a straight bridge on a curved track was an interesting challenge. If I'd been smarter I would've inserted a straight segment in the track, instead of a large gentle curve. Never mind, it fits now!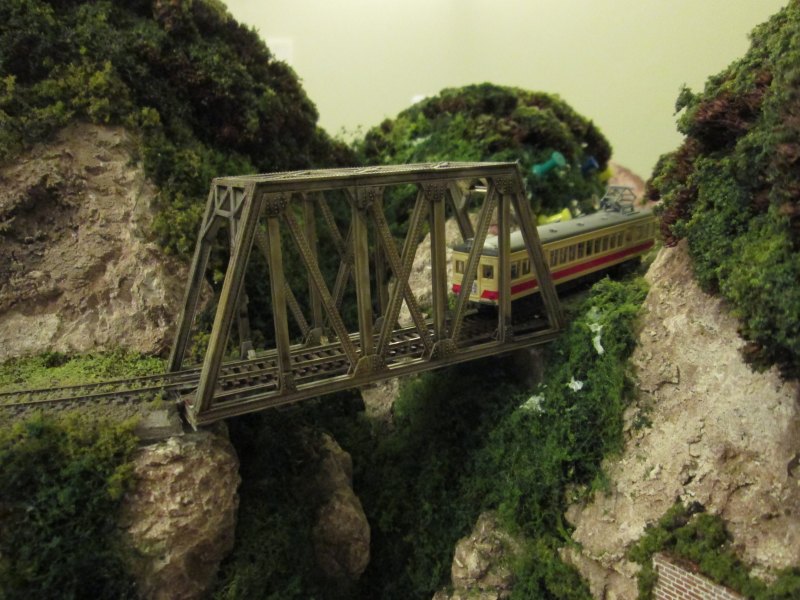 The top half just rests on the base, which will make track cleaning much easier.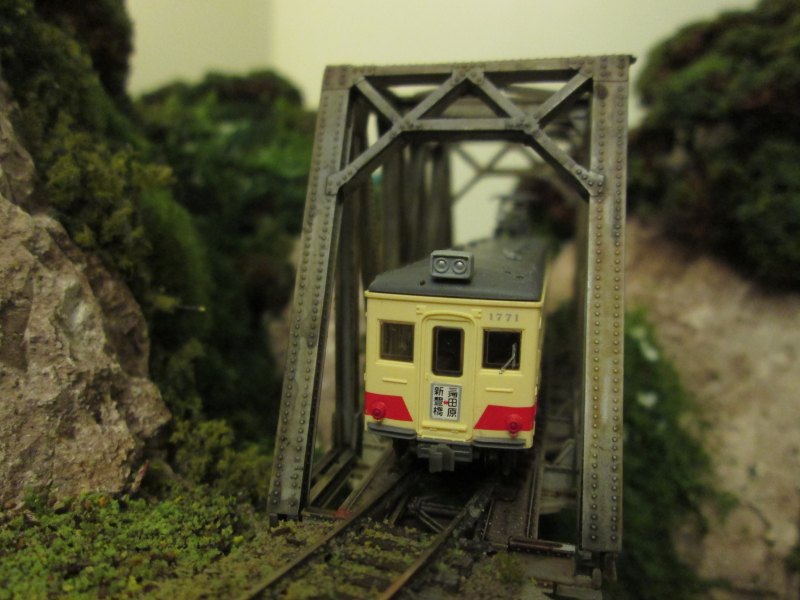 I'm really happy with the finished result, and I think the passengers will love the views from the bridge too.
Observatory
Blame JD for sowing the seeds on this one. He has made a rather nice model of the Lowe Observatory, and it occurred to me that perhaps Mt Adams should have one too; after all, it is high up in the mountains. And then one night Mrs A was telling me about her new dream job, Space Archaeology (the use of satellite sensors to detect long-buried ancient settlements) and I had no choice but to build my observatory.
And so half of a plastic novelty globe was mated to a length of PVC pipe from under the house and the observatory was both. Some styrene was carefully bent to shape around a glass bottle under boiling water, and then painstakingly glued to the roof and several of my fingers. This formed the telescope opening hatch thing. A few more styrene details were glued on to add guide rails and the like.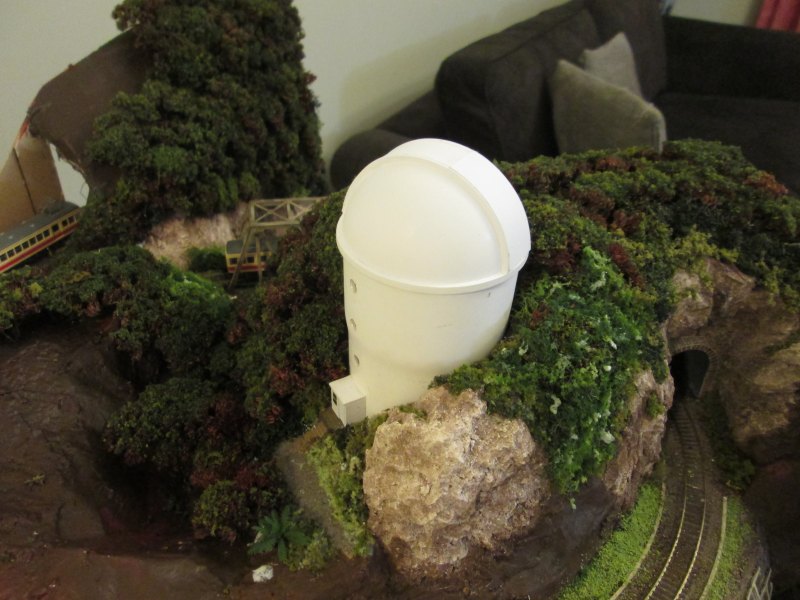 A large hole was then carefully excavated in the scenery to accept the observatory. The interesting flared shape of the tower belies its origins as a PVC drainage pipe!
A small entrance room was quickly whipped up on the laser, and some holes drilled in the cylinder body for extra windows. It now has a rather interesting observatory/lighthouse/UFO look to it!
Windows were made using Microscale Kristal Klear (cringe) which is a PVA-esque glue that can be played across small openings to make a solid film. When this dries you're left with nice wee windows.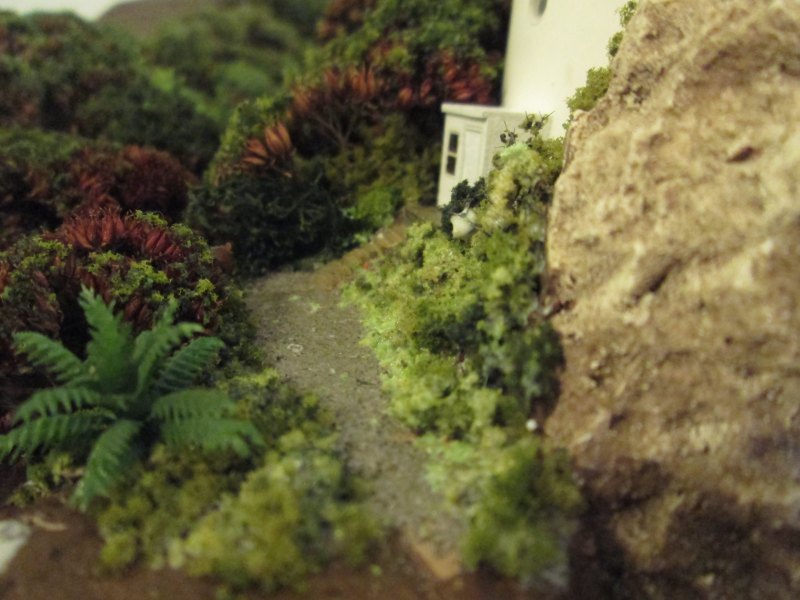 I will add some dim interior lighting to make it come to life at night time.
Scenery
Scenery continues apace. Hairspray supplies have been replenished after reaching dangerously low levels during the week!
The canyon scene has progressed nicely, gaining a lot of greenery down in the base of the canyon. The Woodland Scenics foliage mats are coming in very handy, helping blend together all the different patches of scenery. Still a plenty more to do, though now the upper bridge is in place, I can start working on the lower one.
Greenery is spreading westwards, and has now enveloped the observatory. I have started working on little scenes, like the path up to the observatory. Looking forward to adding more of these as I go along.
A house
While Mt Adams is well up in the mountains, people still live here. After all, there is a great train service! So I need to start building some houses. The first one I've designed is a small asymmetrical house.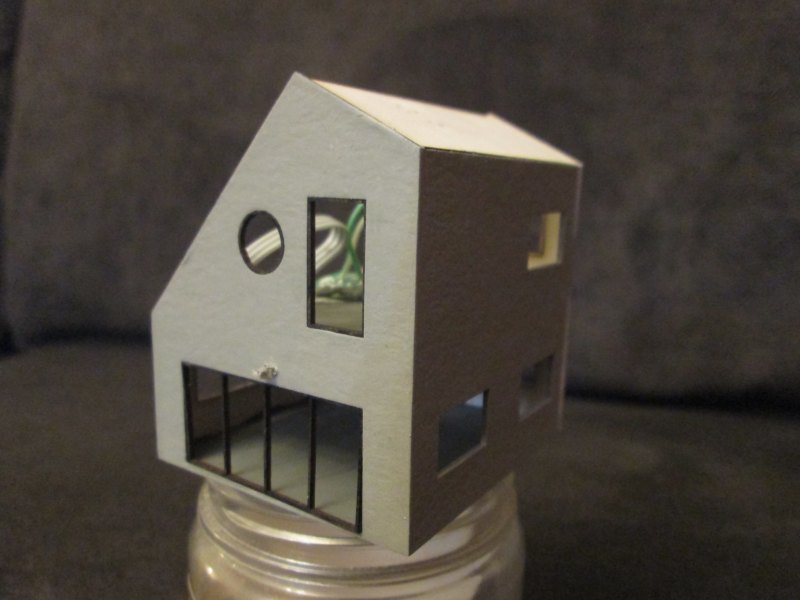 The lower level will be mostly open plan living, while the upper level will be master bedroom and ensuite.
I drew up the design on Inkscape and lasered it out of Taskboard. The window frames are separate items to make painting easier. I discovered however that I was a little too hasty with the drawing and quite a few of the measurements were out. Oops!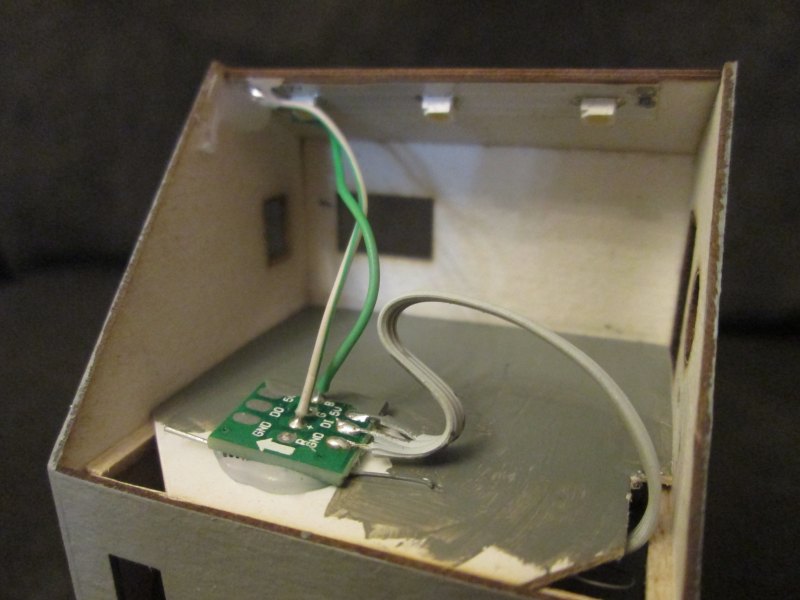 Hidden inside the building are no less than 6 LEDs, plus another on the outside. These are hooked up to small WS2811 LED controller boards which have independent dimming of 3 LEDs per board. Add some hot glue and LED lighting strips and I have myself complete control over upstairs, downstairs, and outside lights, all using just 3 wires.
Still early days for the house; interior decoration, glazing, roofing, and balconies and court yard are all still required. Should be a fun wee house when done though.
So that is it for this week at Mt Adams.