Solar panels and stairs
More news from Mt Adams...
It's been a quiet couple of weeks on the railway. We've had visitors staying, the change in seasons has bought new chores around the garden, various tasks around the house have needed doing, etc. So poor old railway has been on the back-burner a little recently, however I've still ticked off a few things.
House
My first house is almost complete. I've added some solar panels to the roof, as Utrainia is a very forward country keen to maximise renewable energy production. Significant subsidies and tax breaks make it a no-brainer for new houses to set up great swathes of panes on their roofs. I still remember being stunned by the extent of solar power when I traveled through Greece, both for hot water and generating electricity. Compare this with my hometown of Christchurch, where new subdivisions now have covenants prohibiting visible solar panels from the road!!! I still can't believe that here we are, living in the 21st century, with global climate change shaping more and more of our every day lives (unless you are Donald Trump in which case you think it is a hoax perpetrated by the Chinese government...) and yet developers in Christchurch – famous for its smog – somehow think clean, renewable energy is an eyesore and must be hidden from the street. Incredible. Then again, Christchurch's public transport (i.e. bus) usage has dropped 25% since 2006, and their solution to smog is to outlaw fires, yet ignore motor vehicle pollution. The car king down there! Compare that to Mt Adams where there isn't a single road, which is why I enjoy Utrainia so much: I get to create a world that is exactly how I wish the real world was.
Back to the house, it has also gained a balcony. This is a repurposed Greenmax footbridge kitset, a very useful source of railings and stairs.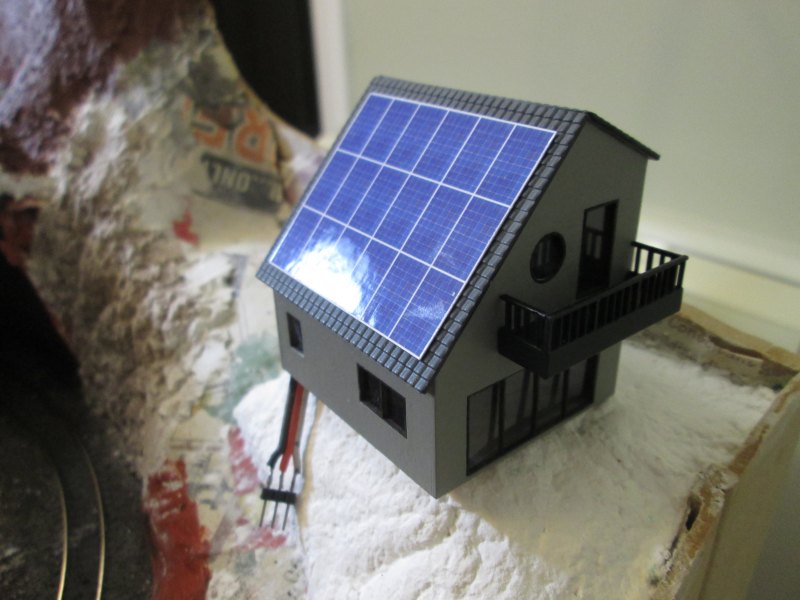 All that remains now is to add a pergola and courtyard, although I am tempted to place a dormer in that great expanse of roof so that people in the upstairs bedroom can look out over the railway while they sleep; that would after all be a selling point in Utrainia! In fact with its excellent rail access, acres of solar, attractive design and railway views, this will be a very sought after piece of real estate.
Observatory access
The workmen have been busy adding access to the observatory. It how has its own micro platform and an extensive stairway.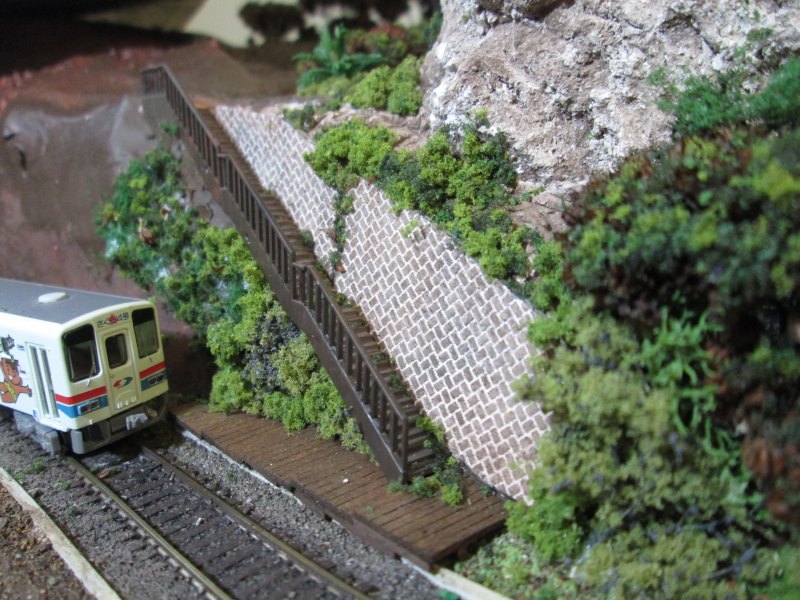 The stairs and railings are from the aforementioned Greenmax kitset, while the attractive tile patter behind is a Japanese design that I made on my laser cutter. Bit of weather required to tie it all in, and more scenery work required, however I think this will be another attractive wee scene.
Retaining Wall
The large retaining wall by the lower station also saw some attention last night, gaining some soil and greenery inside each "cell".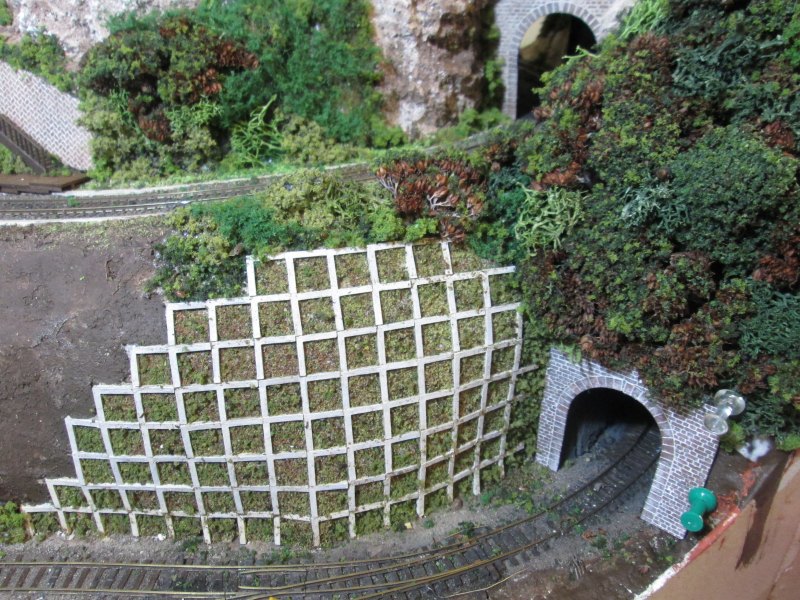 This was done while standing the railway up on its side, as that way everything stayed put!
I've also added the tunnel portal here and built up the scenery around it. Usual story, plenty more to do etc, however it is coming along slowly but surely.
Rockfall shelter
At the opposite end of the railway, I've built a rockfall shelter. Due to the odd contours, a tunnel would've looked pretty strange here, so by adding a rockfall shelter, I can blend it in to the scenery and make it far more interesting.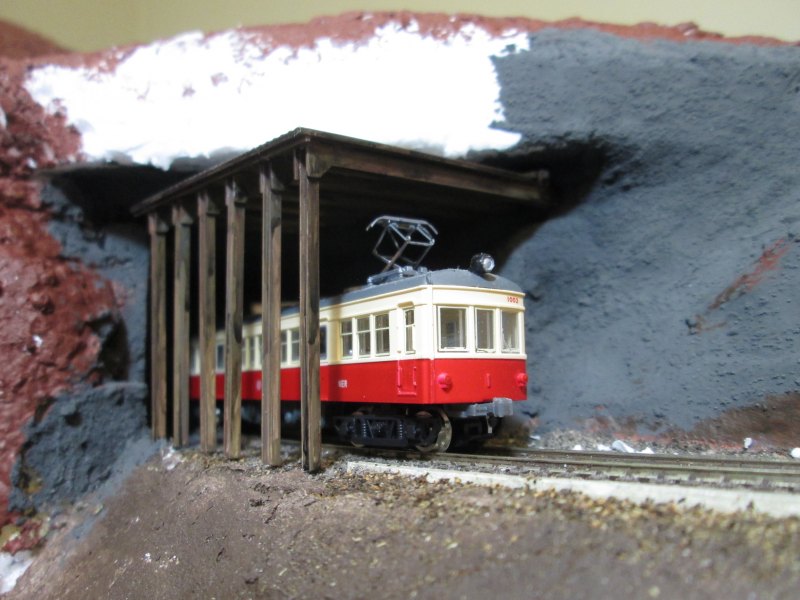 It's a creation from styrene H beams and profiles, and laser cut cardboard for the bracing. I think it will look quite nice when all covered in ivy and disappearing into the bush.
So slowly ticking away and advancing nicely :-)