The Postal Bureau of the Fraternal Republic of Utraijnia
The Postal Bureau of the Fraternal Republic of Utraijnia is Utrainia's public mail service. The have a long and proud history, stretching back to the founding of the country itself. To celebrate this fine establishment, our roving correspondent was tasked with following the daily mail run.
Post Master Alenski has been making the daily run for many decades and is a familiar face to all in Utrainia. Each day, the mail train stops at his small unassuming mail office and offloads the day's deliveries. His trusty station wagon is almost as old as his velocipede.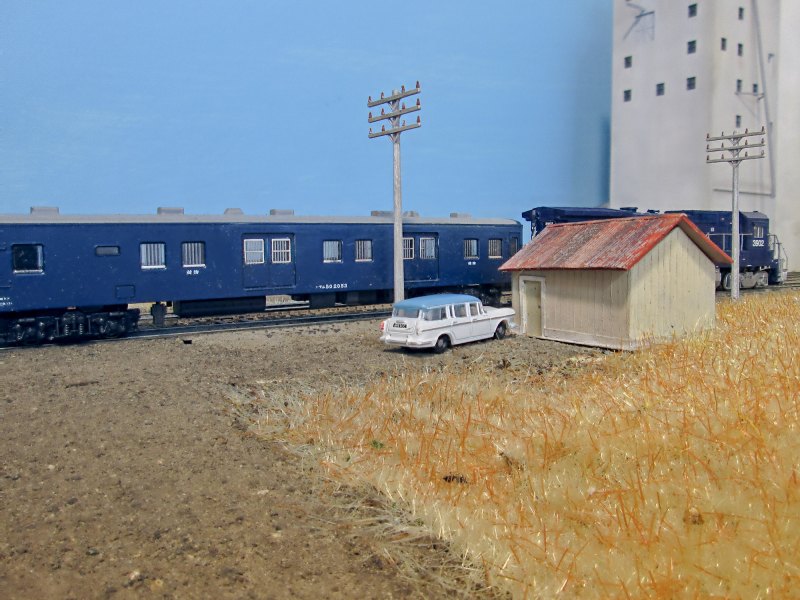 After sorting the mail, Alenski pushes out his velocipede and swings it onto the rails. These days he carries a small radio to let Train Control know when he is on his way, however he is so punctual that it is hardly necessary.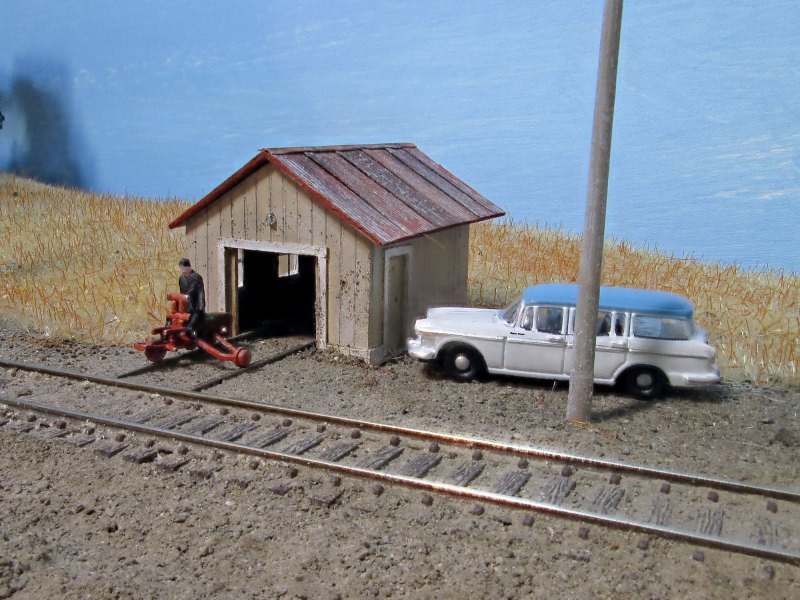 He then begins the long ride to deliver the mail. Since mail is so important in Utrainia, he usually gets the right of way over all other traffic, even some of the passenger trains. Tourists sometimes gasp when they see that they've been held up for a tiny little jigger!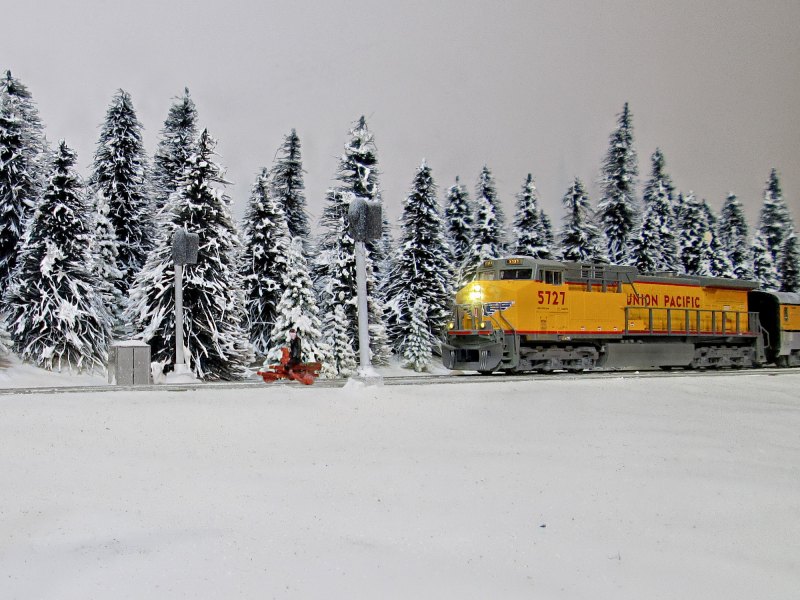 The weather is also no deterrent for Alenski. Rain or shine, two feet or six feet of snow, he will make his rounds!
Once of the nicer sections on his rounds is along the coast. Here the grades are easy and the temperatures slightly more tolerable.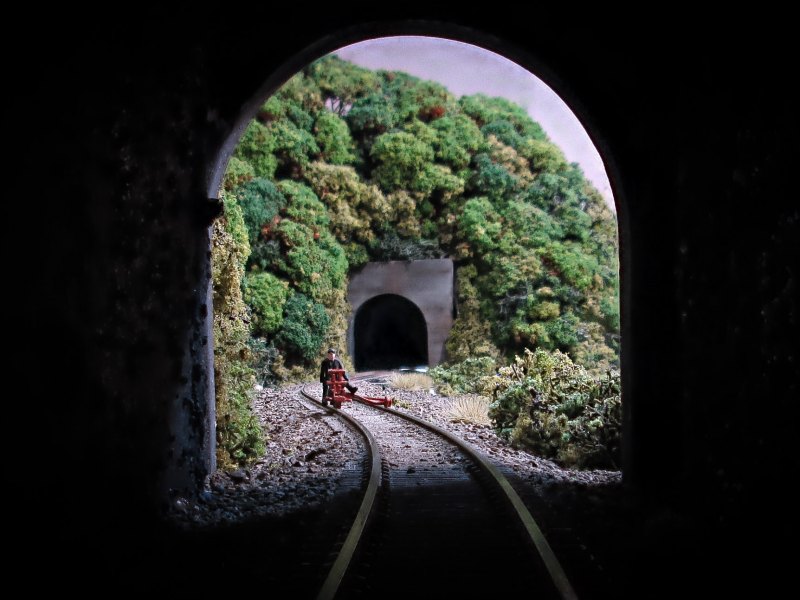 By evening all the mail is delivered, and often a maintenance crew will find room for his jigger as they home. Warming up in front of the pot belly stove in the guard's van, he is treated to a hot pot of coffee and a some of Vladlena's famous railway sandwiches.
About the model
I built the velocipede from a tiny white metal and brass kit one evening a few months ago. Tonight I gave it a quick coat of primer and then painted it up. For Alenski I had to get a bit creative. I took a standard hunchbacked N scale person (they're all hunchbacked, must be the long boat ride over from China?) and chopped off his legs. I then glued his body to the jigger with some 5 minute epoxy, and while still tacky attached his legs as best I could. Using a toothpick I rebuilt his bottom.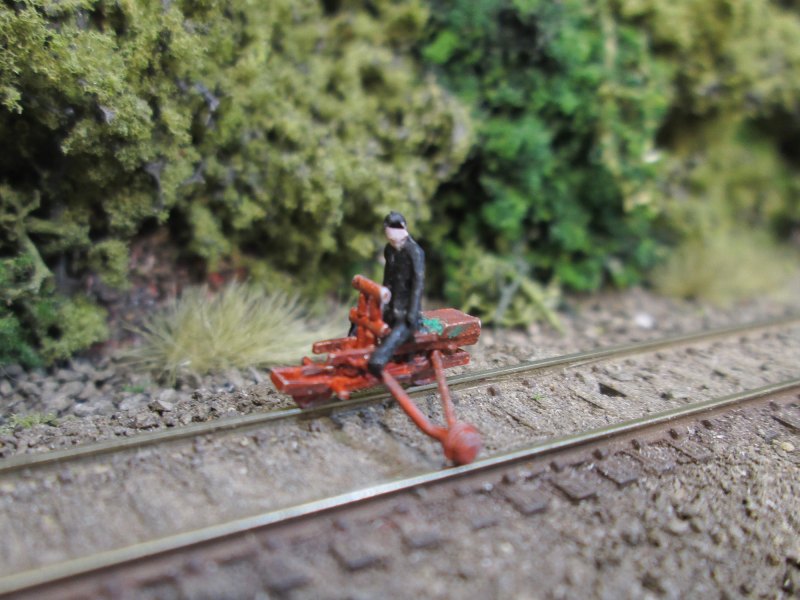 A quick coat of paint and he was soon wearing the standard black suit of the Postal Bureau of the Fraternal Republic of Utraijnia.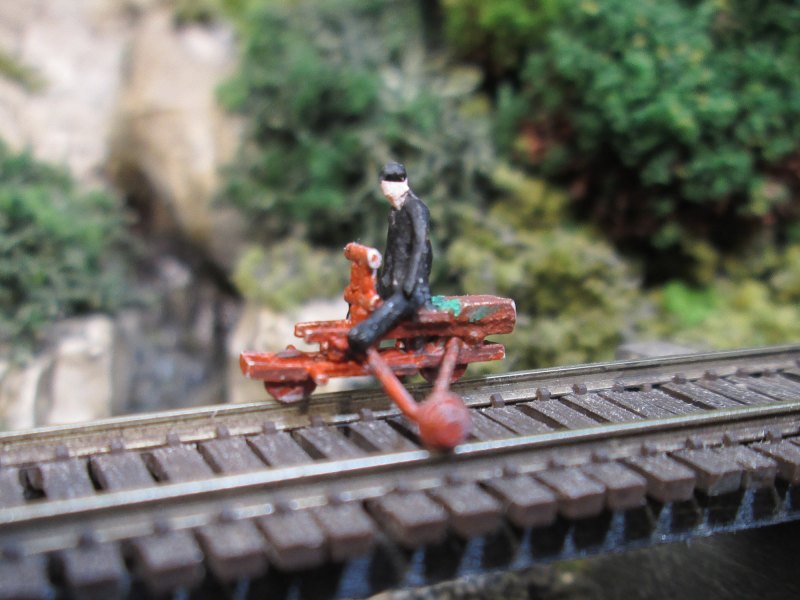 Then some very careful positioning of the tiny wee velocipede followed before I focus-stacked the several hundred photos.
Happy birthday Gramps, honourary postmaster general of the Postal Bureau of the Fraternal Republic of Utraijnia. Naturally Gramps is responsible for Utrainia Mail's formal title too!