My first scratch built turnout
Relations between Utrainia and the United States of America have recently taken a turn for the worse. Aggressive foreign policy against Utrainia has seen stiff economic sanctions put in place, which has forced the Finance Minister of Utrainia to acquire vital railway equipment from elsewhere. The Kato Corporation of Shinjuku, Tokyo have become a leading contender of motive power, passenger equipment and building supplies, and the Utrainia Rail workshops have been tasked with the remaining construction projects.
In case none of that made any sense... I have been buying model railway supplies for many years from the US through Modeltrainstuff.com. While finalising my latest order from them a few weeks back I was absolutely gobsmacked by their shipping changes; $US50 for $150 of products! Their shipping charges have always been high, and I often had to pay $20 to $30 for a large order, but now their shipping charges start at $40 for a single item. For a loco, a third of the order can be just in postage. So I've decided to look elsewhere for my supplies, and Japan seems to have the items I need, at a price I can afford, with excellent shipping to boot.
For the remaining items, I can build them myself, which is the topic of todays blog post.
For the last year and a half there has been a worldwide shortage of N gauge Atlas points, after some kind of mishap in their Chinese manufacturing operation. I've been planning a large Utrainia Central railway station for quite some time, and I have known for the same amount of time that such a station would need many points to connect all the platforms to the main lines. However with the extreme price shipping from the US, coupled with a complete lack of any points to even buy, I've been forced to take the plunge and make my own points.
So over the last few weeks I've been reading up on how to hand lay N gauge turnouts. There is a wealth of information out there, however most websites like to sing the praises of expensive ($200+!!!) jigs and tools to make the job easier, or the use of pre-formed components. That is not the Utrainian way though, and so the UR workshops instead set to work to hand build their own turnouts.
Sleepers
The first critical ingredient when building turnouts are some sleepers. Two types are used; regular wooden sleepers, and special PCB sleepers that the rail can be soldered to. Wooden sleepers are easy enough, but PCB sleepers posed a problem. Over in the US such things are easily available, but once again the shipping is prohibitive and time consuming, and for the number of sleepers one gets it doesn't seem especially cost effective.
So I decided to make my own.
First off I needed a miniature table saw. So I quickly made up a jig for the Dremel out of some offcuts and 3mm MDF that would hold a cut off disk at the right spacing. A lump of wood behind acted as a guide, and the whole thing was clamped to my workbench.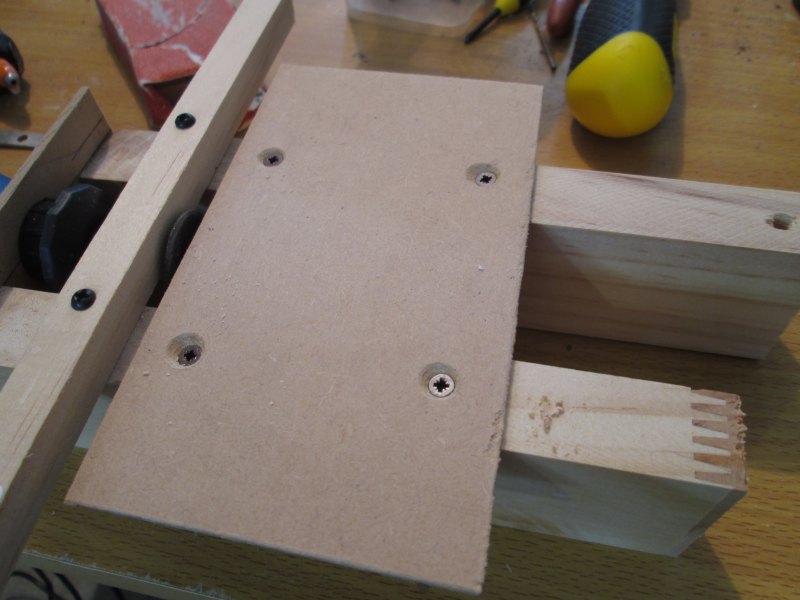 I powered up the Dremel and quickly ran through a piece of 0.8mm single sided PCB. It turned out well so I ran off three mode strips.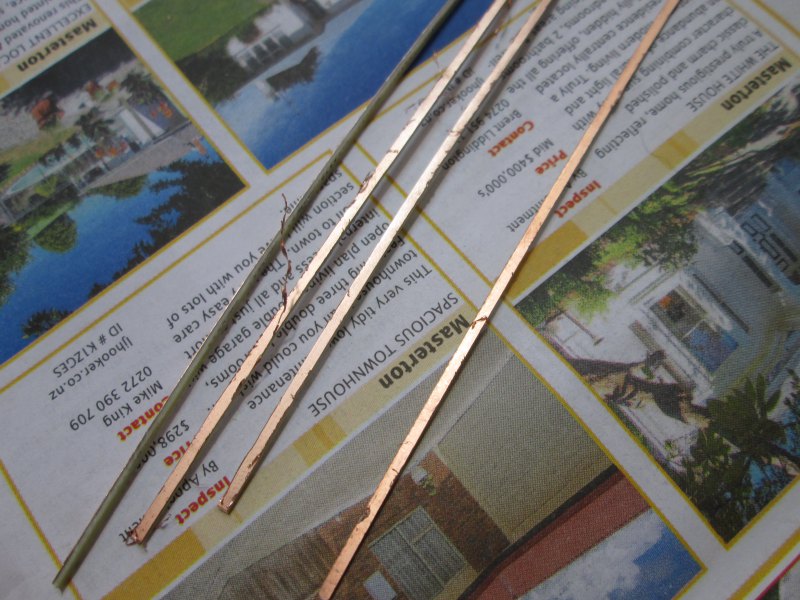 I gave them a quick lick with some fine grit wet & dry sandpaper and bingo; I had some very presentable N scale sleepers!
Assembling the turnout
Encouraged by my initial success I pressed on. I called up some excellent instructions and printed out a #6 turnout plan from Fasttracks. I stuck it to a lump of wood, and put some double sided tape down to hold the PCB sleepers.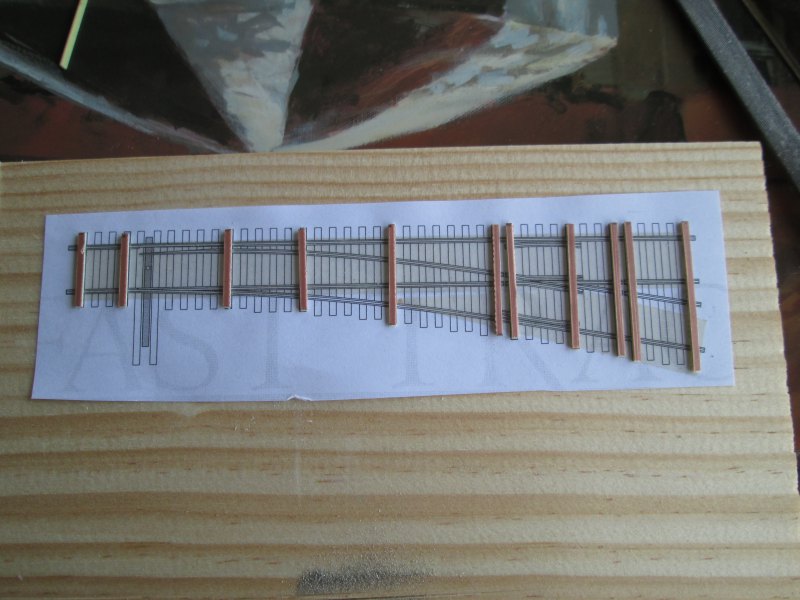 I filed down the cutout for the first rail and soldered that in.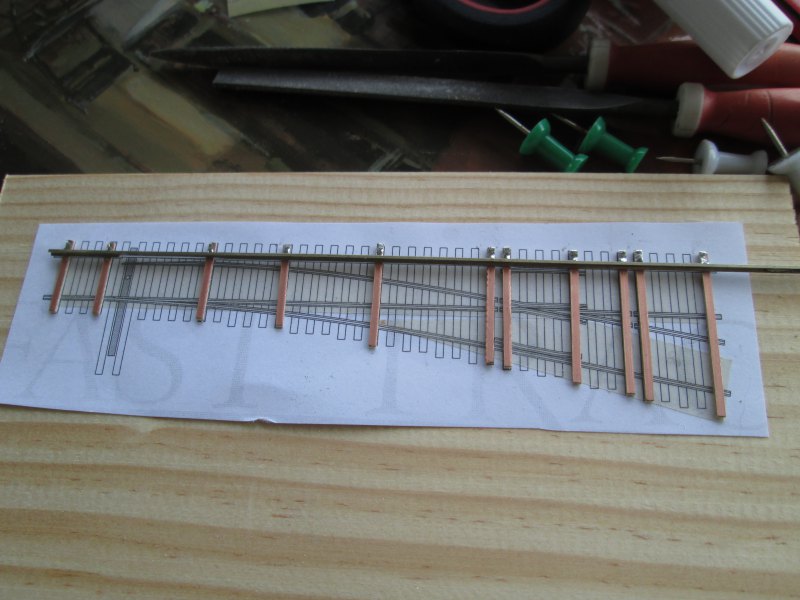 So far so good, although so far everything has been easy. Making the frog would be my first big challenge.
I filed both pieces of rail down to sharp points and soldered then to the correct angle on a spare print out.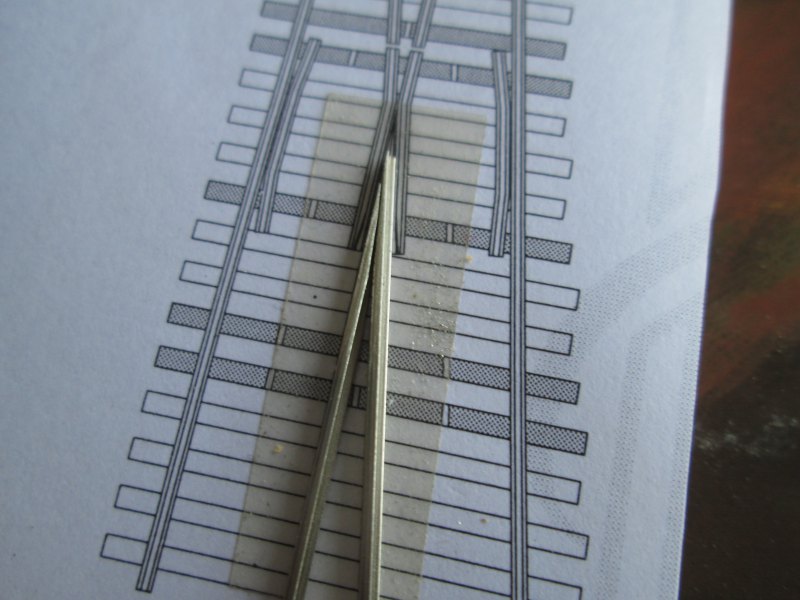 I filled the gap between the two rails with solder and filed it smooth. First burnt finger.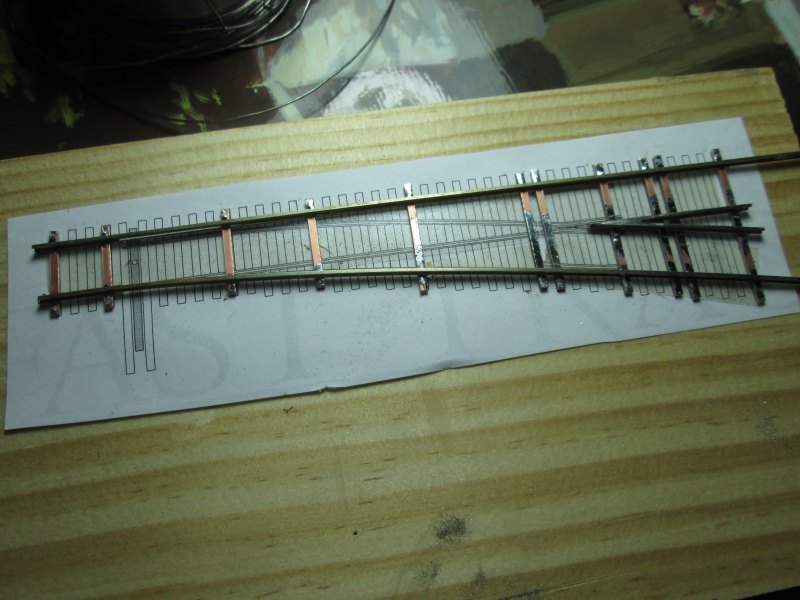 The frog was transferred and with the help of a track gauge I soldered it into position.
The outside curved rail was next; for this I tried to bend it to the right angle, then carefully soldered it into place, tweaking the alignment as I went.
Point blades were carefully filed down to sharp points. The filing is the slowest part of the operation, although it usually only takes a few minutes for each piece.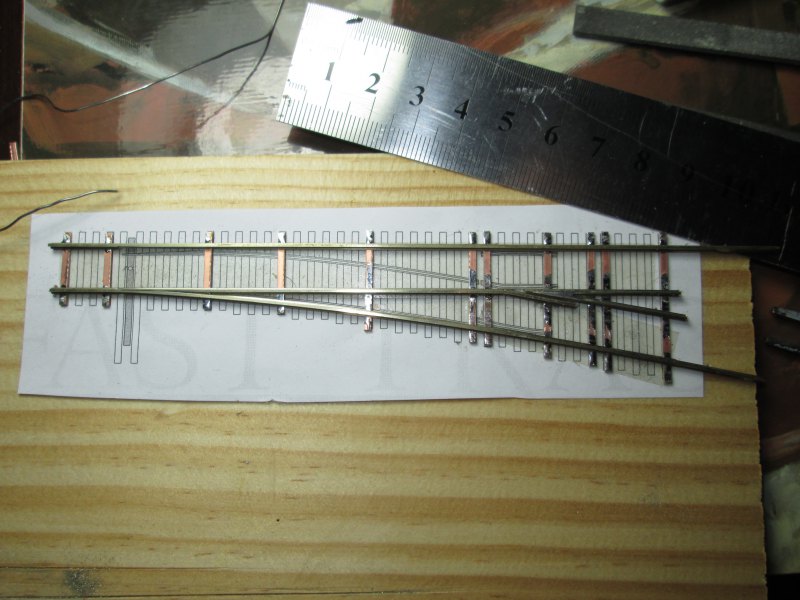 This was again soldered in place sleeper by sleeper, always ensuring it was the correct gauge. At each stage I ran an N gauge bogie through the trackwork to check clearances.
Soon there was just the curved point blade to make; this was duly made and soldered on. Wing rails were added to help guide the wheels through the diverging route. A few more burnt fingers while soldering the last few bits in place, and before I knew it, I had a completed point!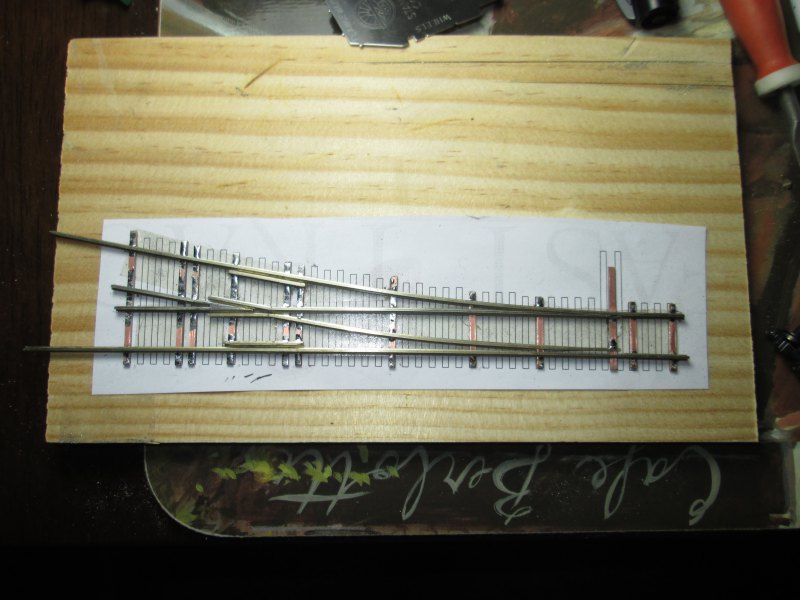 I did some tests and, so far, I can't fault it. I expected my first turnout would be a crude affair, however I have been very pleasantly surprised. I guess I shouldn't be surprised by this standard of work from the Utrainia Rail Workshops! From start to finish took just over an hour and a half, and the workers assure me that subsequent turnouts should be quicker.
This bodes incredibly well for the pending trackwork at Utrainia Central, which is expected to involve a dozen-plus points, many of them curved. I'm looking forward to seeing it take shape in the coming months.