Making snow
To prepare my module for snow I started the slow process of building up a base for the snow. To start with I wanted the snow nice and level with the tracks, as per the original inspiration photo. I grabbed the nearest caulking gun and squirted out big fat beads along the track, then with a putty knife and some water smoothed it off nice and level.
To simulate piles of plowed snow, I crushed up some dried plaster and embedded it in the caulk while still soft: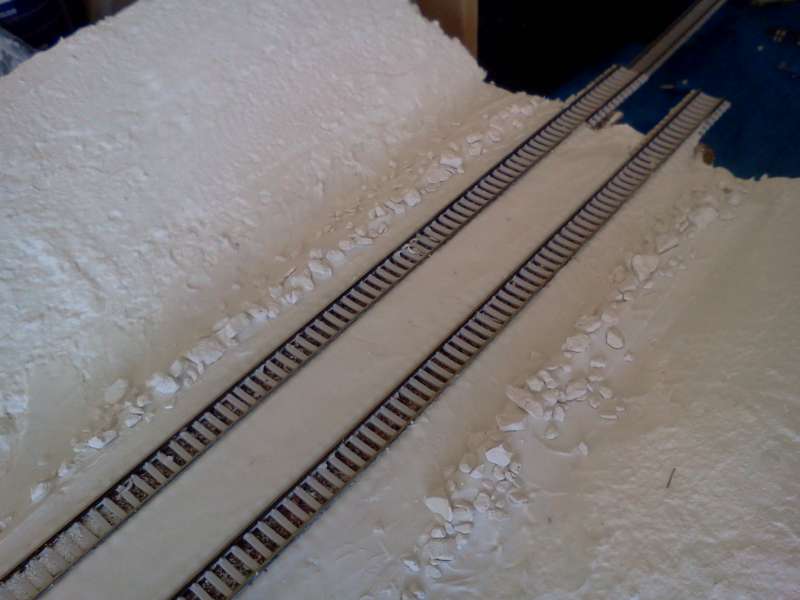 To disguise these mounds I mixed up some sloppy plaster and drizzled it over the top. Much sanding, filling, more sanding, painting, smoothing, sanding followed. At the same time, I experimented with snow materials:
Woodland Scenics snow, sprinkled over 50/50 glue/water: far too coarse for N scale. Each grain of snow was the size of an N scale human's foot!
Woodland Scenics snow, sprinkled then wetted down: does not stay where put. The wetting process smooths things down a bit, but still very coarse result.
Sifted plaster, misted with water: Looks very convincing while dry, but as soon as I started misting water on it, each grain of plaster puffed up in size and the finished result was quite rough. It also dries a gray color. This could be because I used regular Plaster of Paris and not Hydrocal? I've read that dental plaster is even better as it has the finest grains. Others seem to have had good success with this method, so not sure what I was doing wrong.
Snow Gloop: From Dave Frary's excellent "Realistic Model Railroad Scenery" book, this is a mixture of a thick medium and white paint, carefully placed over the scenery. This worked well for building up snow banks, especially when misted with water afterwards to smooth it off. By mixing in some matt acrylic varnish, it dries with a nice matt finish. The main problem with this is that it looses a little volume when drying.
Plaster: In "Terrain Modelling" by Richard Windrow, he suggests using runny plaster over scenery to give that heavy, contour hiding, style of snow. This worked well, however it still needs to be colored.
Thick white interior paint: Good for slowly hiding detail as it tends to gather in low spots. Mist with water to smooth out some brush strokes. Dries very white.
Flat, matt, white spray can undercoat: On a whim I decided to try a can of matt white paint. All I could get was undercoat, however this worked perfectly. The paint dries very hard, with just a hint of texture.
So my final snow recipe is:
Caulk/acrylic sealant to build up banks around track; plaster would also work fine.
Layer of plaster, sanded until smooth all over.
Spackling to fill in any smaller holes. As it starts to set I use a wet finger to smooth it out, and then sand it smooth with some 400 grit wet & dry.
Snow Gloop or almost-runny plaster to build up snow banks around buildings.
Another pass with the sand paper.
A thick heavy spray of cheap matt white undercoat.
The white spray undercoat has a few secondary benefits: it is every so slightly off-white, giving the scene a nice overcast look to it: in the middle of a blizzard things are very grey: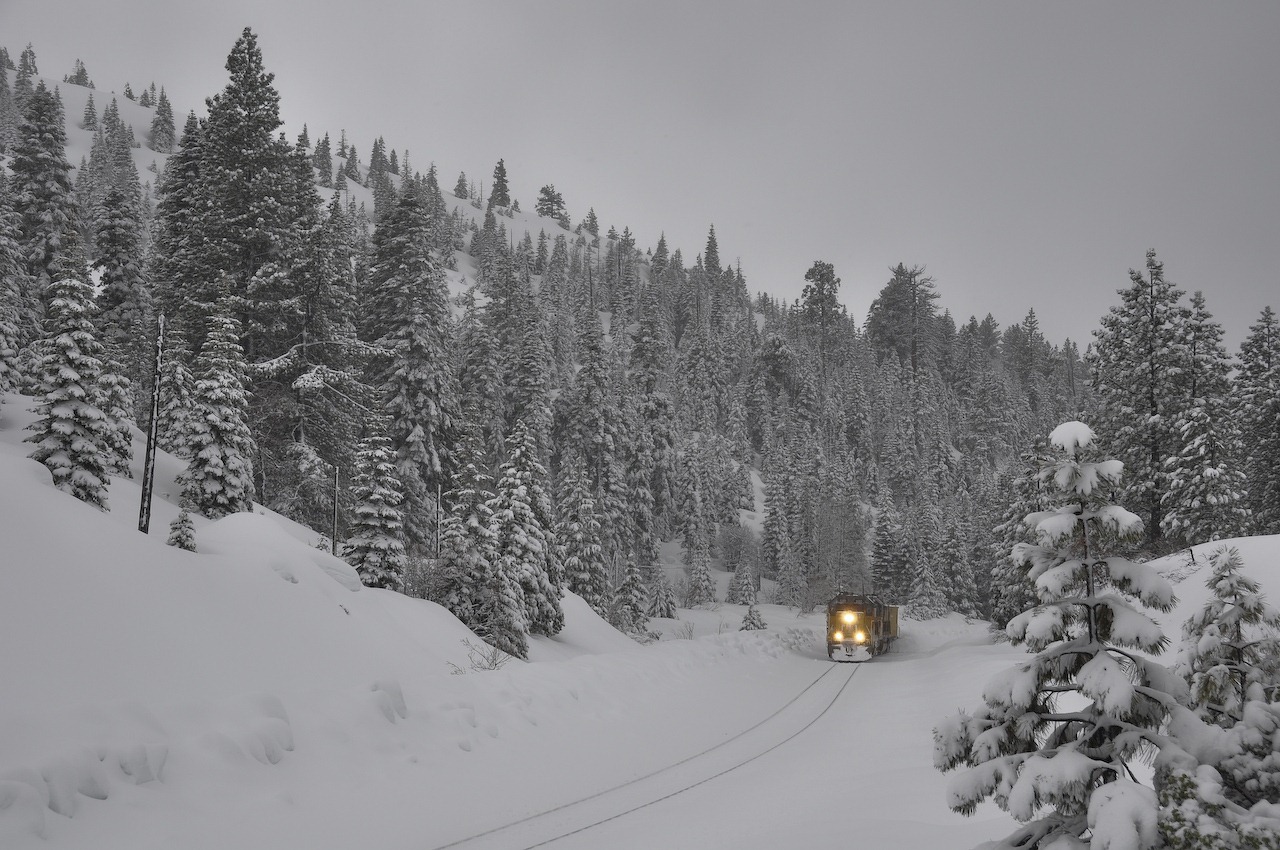 The other benefit is that it falls like snow, to gives horizontal surfaces a good heavy coat while leaving vertical surfaces like the sides of rails nice and relatively untouched.
Here is the business end after spaying, you can see the unmasked area around the track is a different color.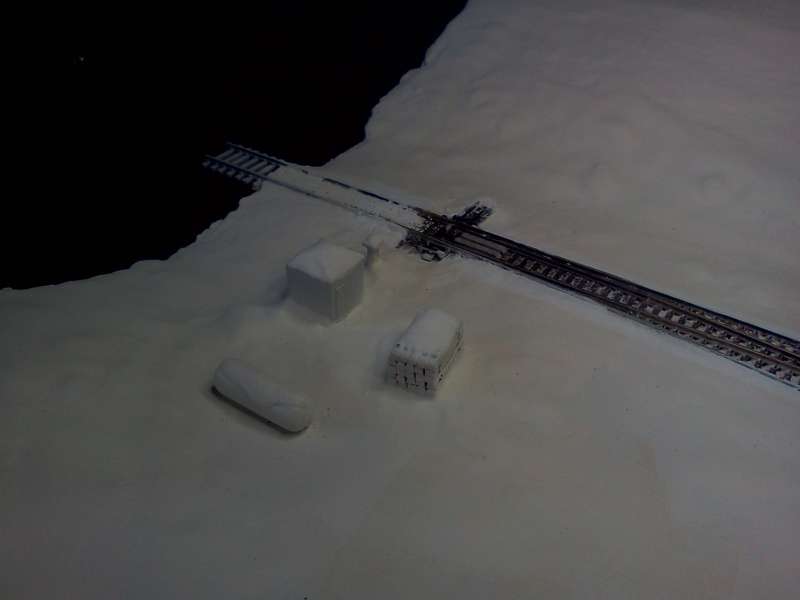 You can see how the snow looks good and lumpy, while still being very easy to clean
While at it, I installed the first signal and a snowed-in equipment box. The box is a little too snowed in so I raised it later.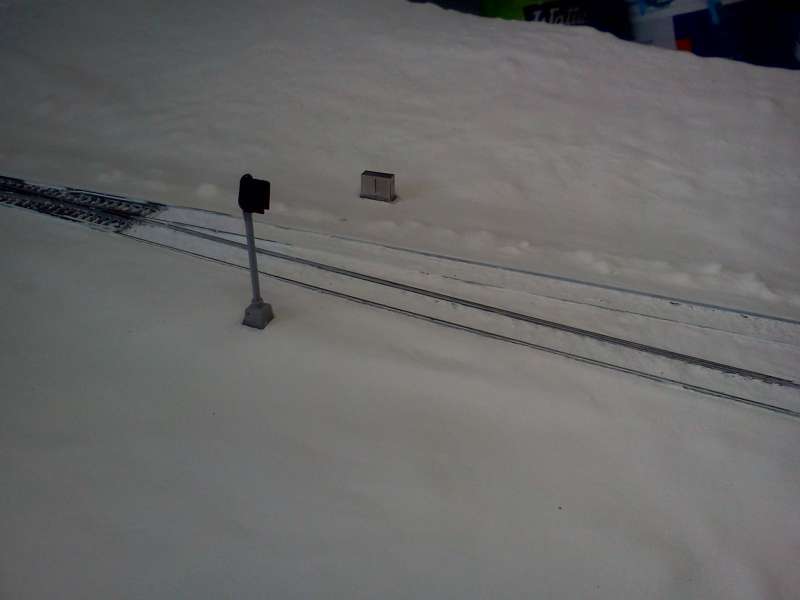 After all the preparation, it is finally time to start planting trees! The process is pretty simple, just poke a hole in the plaster shell and stuff in a tree.
Here is the start of my forest: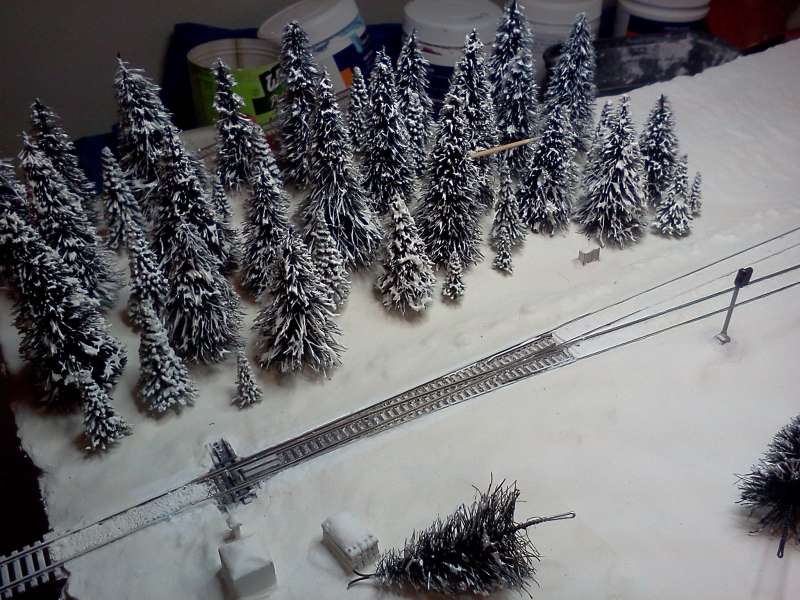 Soon all the trees were used up. 100 trees sure doesn't go far, but the result is very pleasing: