San Luis and Rio Grande SD90s
New motive power is rare is rare here in Utrainia, but this morning I got word that some very eagerly awaited locos were heading out for a test run. I made a quick call to the San Luis and Rio Grande yard office and found out their plans for the day. Seems they were scheduled to haul the prestigious Ski Train! To see the Ski Train running was great news, but with a pair of fresh SD90/43s on the front! Oh boy!
I immediately put all other plans on hold, topped up the car with gas and hit the road. I knew exactly where I could catch it, a nice little clearing up north where the double track turned into a single track section. As I got closer I noticed the weather closing in and soon there was snow at the sides of the road. Luckily I had chucked my All Weather Railfanning Crate in the back with plenty of warm socks, mittens, arctic-grade jacket and so forth. Winters here in Utrainia are known to be unforgiving, so it pays to be prepared.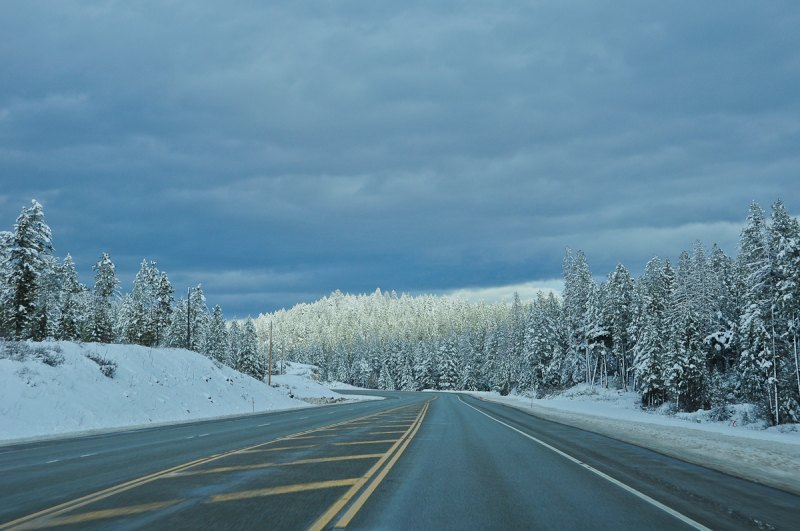 After a couple of hours I had gotten as close as I could. The road down looked pretty marginal with thick snow covering it and no fresh tracks. I decided to play it safe and hiked the rest of the way in.
When I arrived I could see the signal was lit which meant a train was nearby. I quickly scouted out a spot and barely in time too! Soon I could hear the rumble of a big EMD off in the distance, working hard, but not struggling.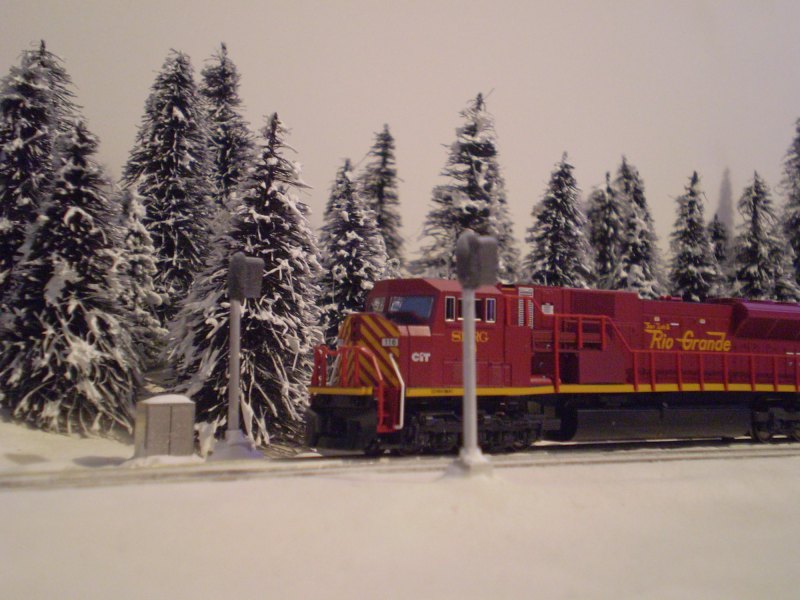 Oh wow! I had heard these big red SD90s were handsome but I had no idea just how handsome they were. Stopped at the signal I managed to get a few shots.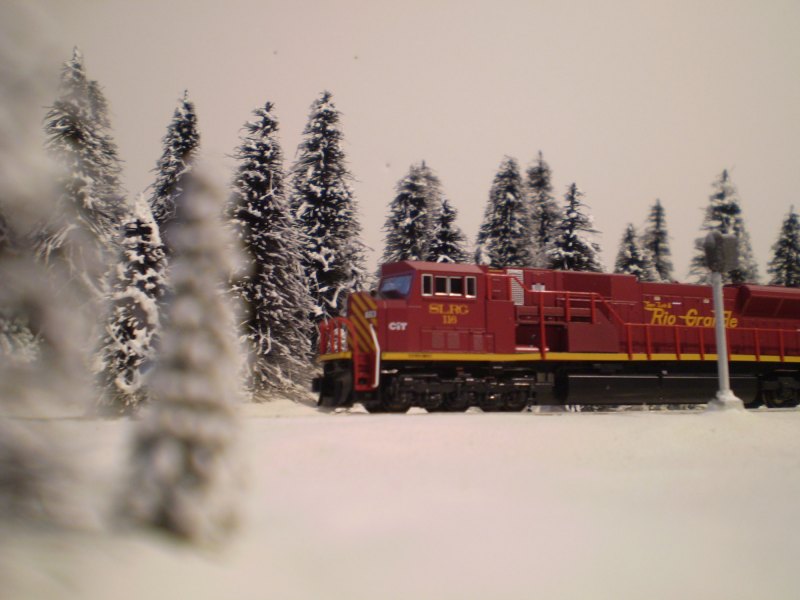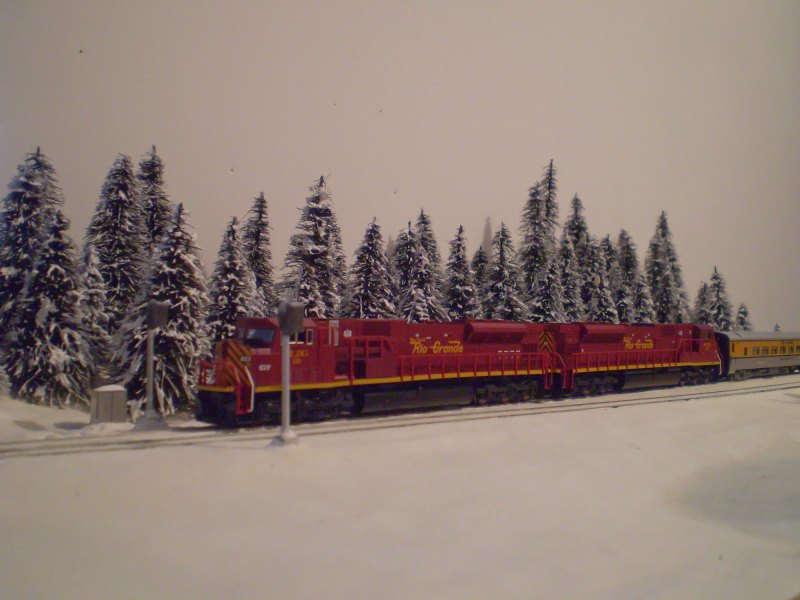 Not just one, but a matching pair! Oh Utrainia!!!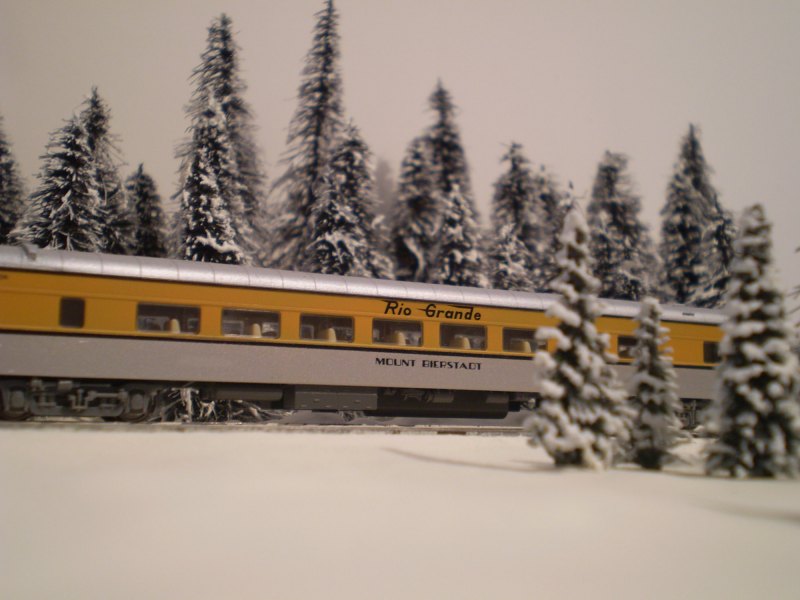 I was so excited about the locos I almost forgot all about the Ski Train. I did manage to get one shot of it as it passed though. The coaches are very smart in their aspen-yellow and silver scheme, and the view must be amazing out there.
As I was about to trek back out I spied this we fella, obviously not too worried about the frequent trains through here: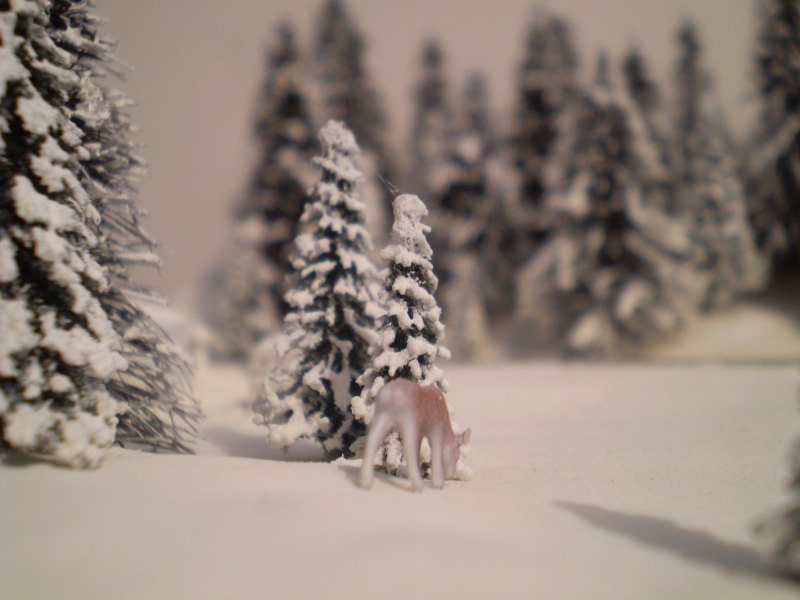 All in all, a very exciting day! I look forward to seeing more of these wonderful locos in the coming weeks.
About the train
While I was in America back in 2009, I visited the little town of Alamosa, Colorado. Here a small railroad has taken over a former Union Pacific line, which before that was a Denver and Rio Grande line. It's a great wee railroad town and I spent an enjoyable few days exploring La Veta Pass and Monte Vista.
When I returned to NZ I kept an eye on the railroad and was especially excited when I saw they were to resurrect the Ski Train, a great train that ran from Denver to the footsteps on Winter Park ski field. To haul they train they had some very handsome maroon SD90s, and a hodge podge of passenger cars. Unfortunately Amtrak threw a railroad-sized hissy fit the day before their first trip and the whole thing was canned, for good.
Ever since then I've wanted to recreate what could have been: Beautiful maroon SD90s hauling a set of elegant aspen-gold and silver passenger carriages through a snowy wonderland. Over the next several years I slowly purchased and repainted suitable passenger carriages, carefully decalling each one. In the end I built up a fleet of 7 carriages, including a diner for meals, a full length observation carriage (one of which I've travelled in, on the SLRG what's more), several coaches, and a dome/observation for the rear.
What eluded me though were the locos, as no suitable model existed. I had an unpainted SD90, but there were no suitable decals. Then one fateful morning Kato announced not one, but two locos in the glorious maroon and gold SLRG livery! Soon they were on a fast boat to Utriania and the rest is history.