Lets explore Tomytec Train Collection!
One of the greatest things about Japanese railways is the variety. So many liveries! So many companies! So many styles! So. Many. Trains! In fact there is such a plethora of trains in Japan, you could almost say there are too many! Too many? Well, there are so many, that even at the standard release rate of several new models every month from four different manufacturers, it can still take years before a train is turned into a model. Some are never turned into models. Most models are released in a small batch to the market, then the molds are safely stored away until demand is high enough to warrant a re-release. That can easily take half a decade to occur!
There have been a few interesting solutions to this dilemma. The first is Bandai, who have released their "B Train Shorty" series of shortened, stylised trains. Each carriage is about 6cm long, rather than the usual 15cm+. The models are crude and clunky, and far from accurate. The purchaser must assemble them theirselves, and if they want to motorise the models, they must purchase wheels and motors separately. However, they are cheap, and are released at a prolific rate.
The other interesting solution to this dilemma is from Tomytec, parent company of the well known Tomix brand. Their solution is the "Tetusdo Collection" (Tetsudo = train in Japanese), or "train collection" in English. Their approach isn't too dissimilar to that of Bandai, in that the models are cheap, and unmotorised. However unlike B Train Shorties, the models are accurate scale models, and very well produced. They even come with a small display track with a name plate, in fitting with the collection part of their name.
The collections come in two forms. One is models of specific trains. The other is their "mystery collection". When purchasing these, you don't know exactly what you're getting until you open the box, however you have a general idea of the class of train and they advertise the possible styles and schemes on the outside of the box.
Enough talk, lets examine Tomytec Train Collection No. 19!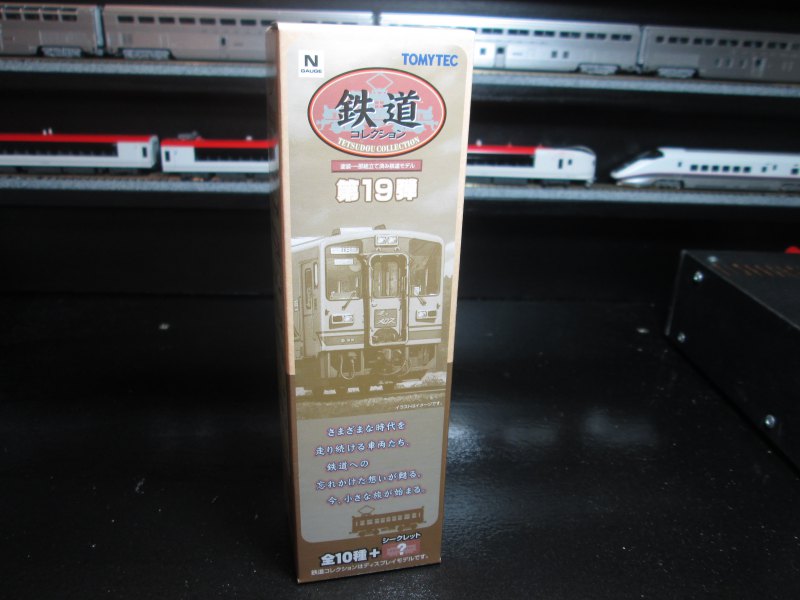 Train Collection No. 19 are all of small single carriage diesel railcars, as would be seen trundling around rural Japan. These small diesel trains are perfect for off-peak service in Utrainia! I wonder what could be inside?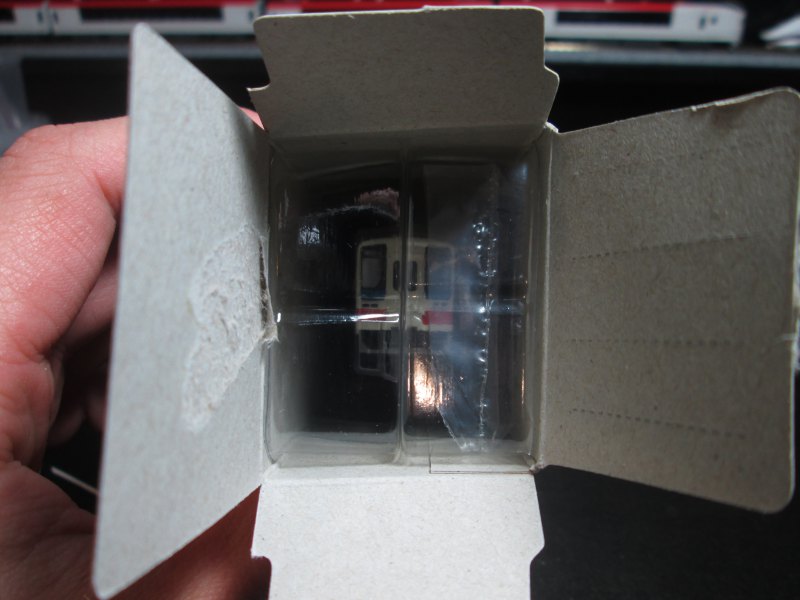 Interesting...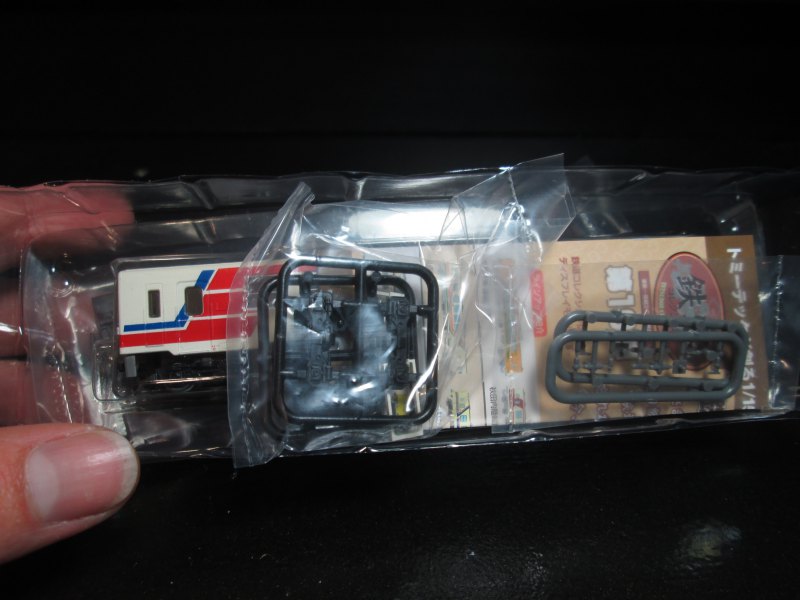 Straight out of the box. Several packs of little detail items, and a small instruction sheet.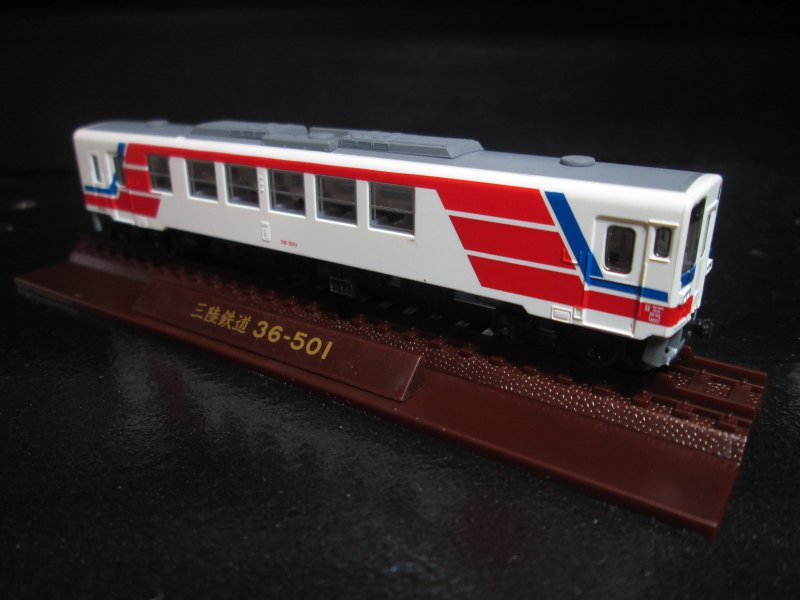 Wow! This is a Sanriku Railway 36-500, from the Iwate Prefecture. From what I can gather, it is a Kiha 125, with a 12 or 13L diesel engine, and a hydraulic transmission. If my Google-translate-Japanese is correctl The Sanriku Railway purchased this to fill a shortage of rolling stock, after two of their carriages were blown over in high winds!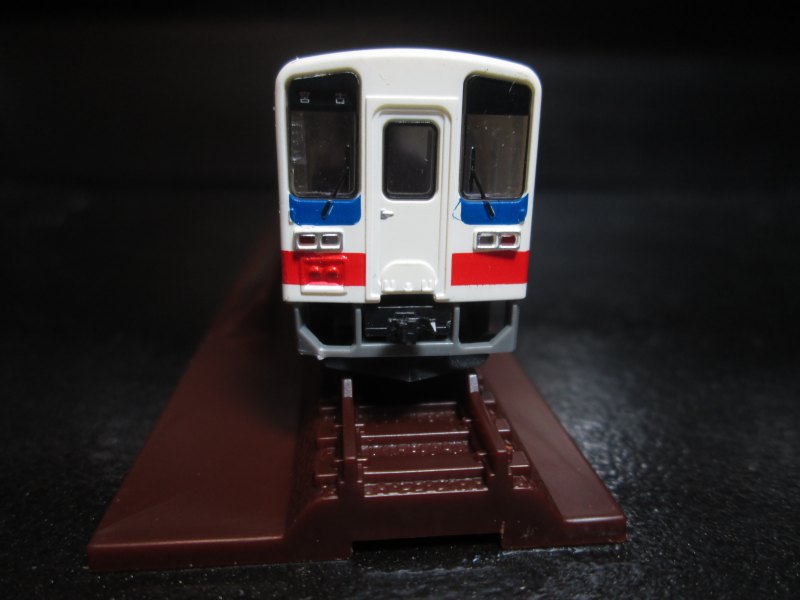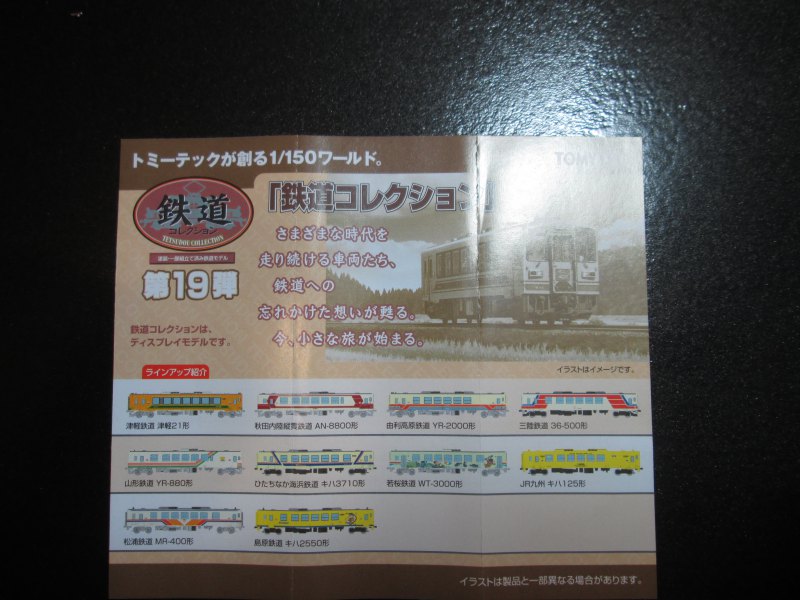 From the info sheet you can see all the other models in the series are pretty similar, with just subtle differences to styling and a range of stripy paint schemes.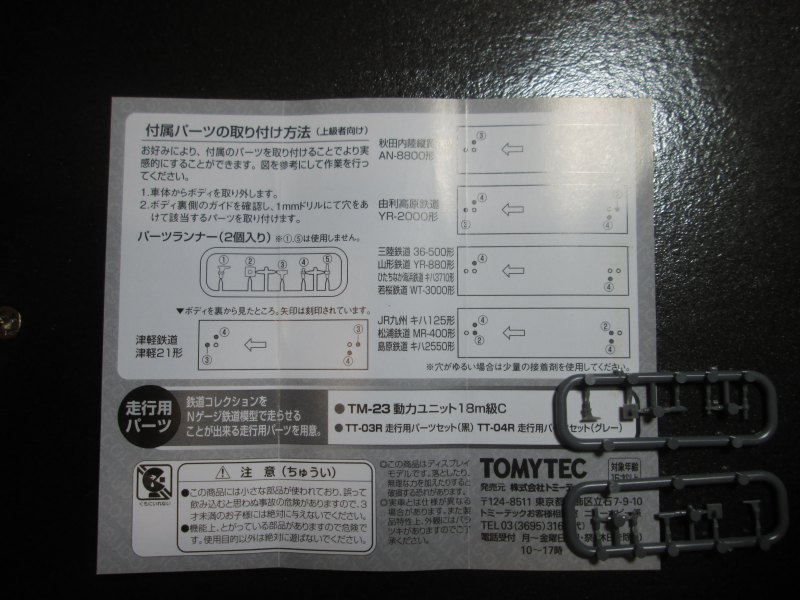 Some extra roof vents are included, along with placement diagrams. The inside of the roof has dimples to help you drill out the right holes.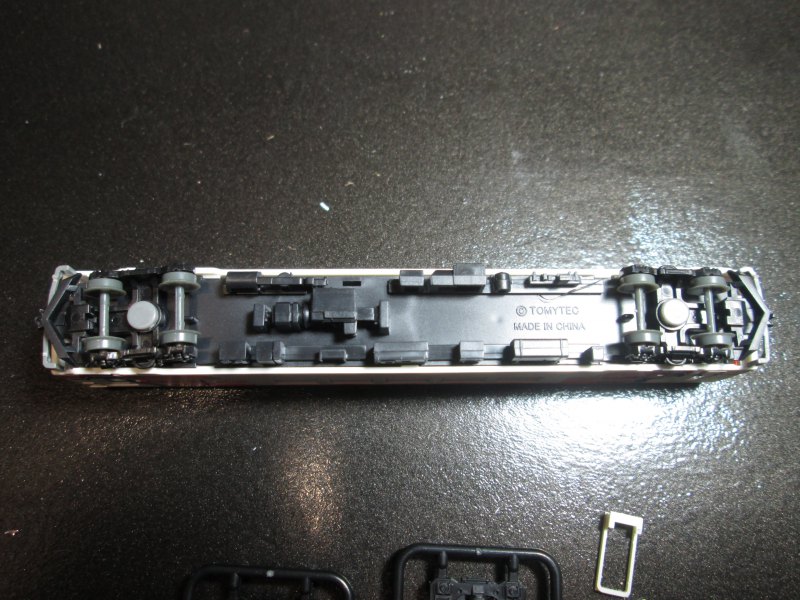 Underneath. The wheels are plastic and don't really roll, but are easily replaced with standard Kato replacement wheels, which roll really nicely. You can also buy a kit from Tomytec which has replacement wheels, couplings, and weights to turn it into a fully functional carriage. Lets look inside!
The two halves pop apart easily. Nice seat detail, this will be easy to add people to.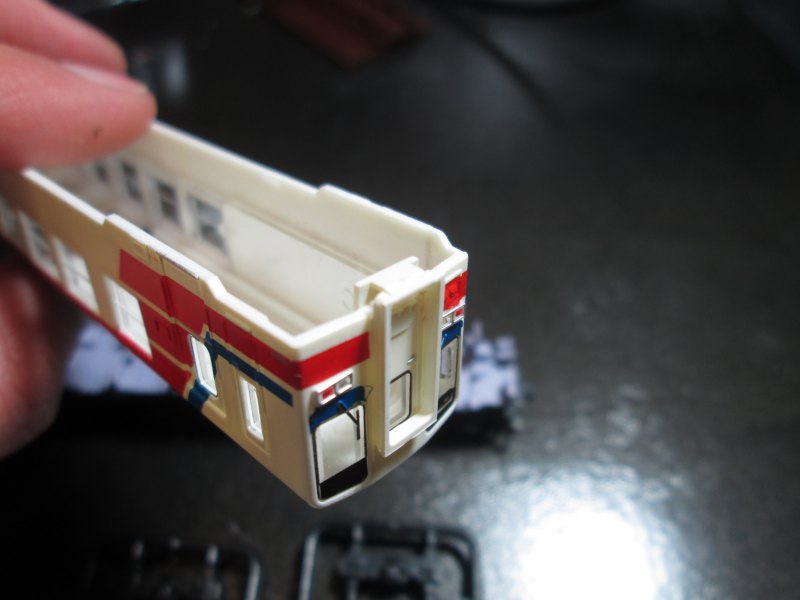 Some vestibules are included, ready for you to fit. These easily slide into indents on the body shell.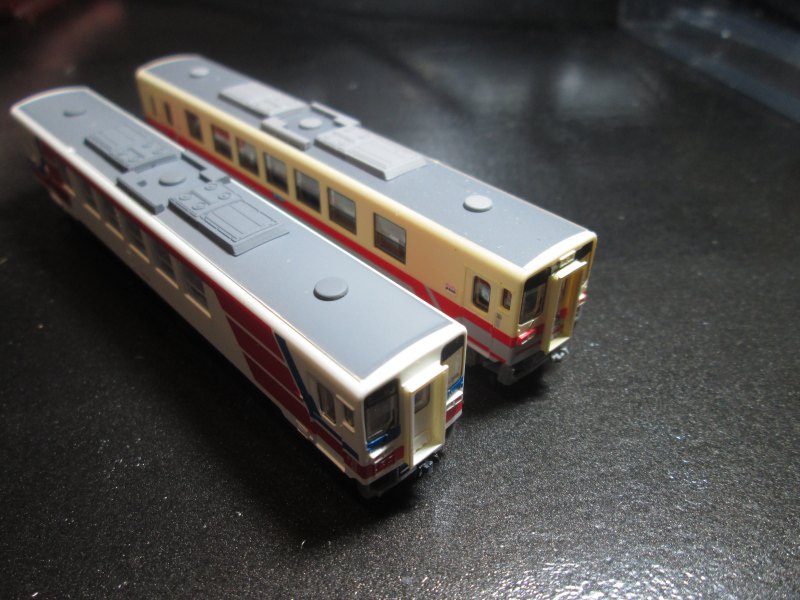 Sanriku railway has a sister! This is a YR-2000 single carriage train from the Yuri Kogen Railway of Akita Japan. Here is a 30 second video of a YR-2000 making good time while crows caw and a crossing dings. The Yuri Kogen Railway is only 23km long, so there is no way a these would ever get a regular model made of them.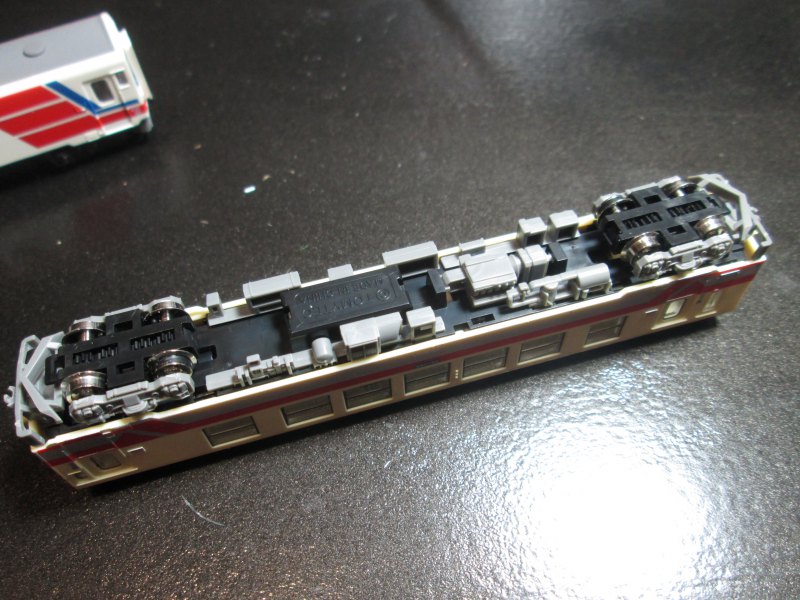 I have motorised my YR-2000 with a cheap chassis from Tomytec that replaced the floor molding. All the detail parts from the original floor clip off, and slot into the same positions on the motorised chassis. It is very ingenious. The small detail packs included in the model have bogie sideframes suitable for the chassis. Even the little snow plows slot into the new chassis!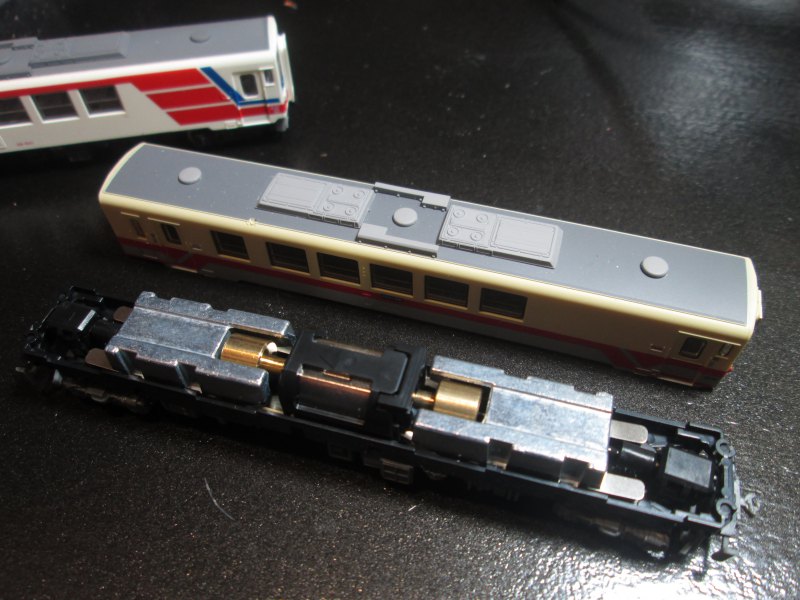 The chassis are well designed, with dual flywheels and lots of space for fitting a decoder. The weights are very shiny and tend to glimmer through the windows, but this is easily fixed with a little paint.
Time to explore the railway! Here we see a YR-2000 waiting for passengers in Ranuska. Looks good!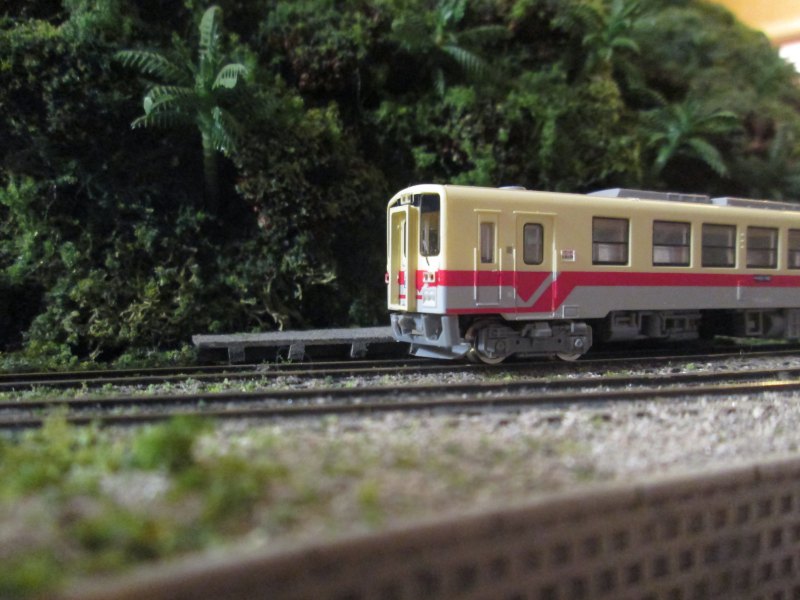 I splashed out and bought five of Train Collection No. 19, and at just $US7 each why not! If I get one I don't like, it is no great expense and I can always repaint it. I love the surprise of opening the package not knowing exactly what will be inside. Is this Lego minifigure collecting for railfans?
My next Train Collection is sitting sealed in its package, waiting to cheer me up after a really bad day :-) The Utrainians are really looking forward to the improved rail service these low cost railcars will bring to the republic. And the railfans just enjoy spotting the new and unique models.