Raparapa detailing
The weather here in the real Raparapa has been quite miserable lately, which has been a perfect excuse to do some detailing on Raparapa in our cosy lounge.
Sheep
Rachel bought me some sheep for my birthday, although the clever model shop in Christchurch managed to send OO scale sheep, which are truly gigantic in N scale – not so much sheep, and more like wooly mammoths! Eventually after several phone calls and even a personal visit, they managed to get the correct size of sheep sent over from Britain.
Out of the packet they were very plastic looking, so I took some time to paint them up like real sheep.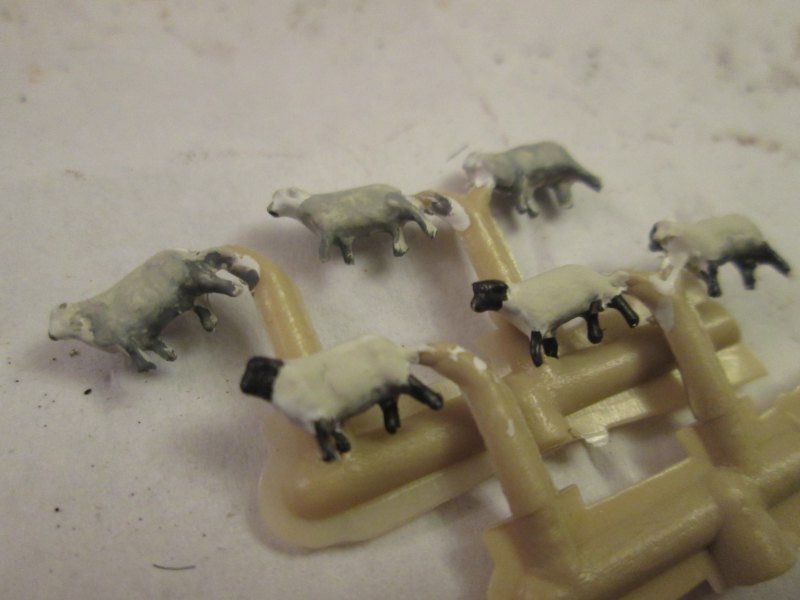 I chose to paint them as "black and white sheep" and "regular grubby sheep", as researched while driving to Rachel's school.
I snipped them off the sprue and planted my 14 sheep in a paddock by the station.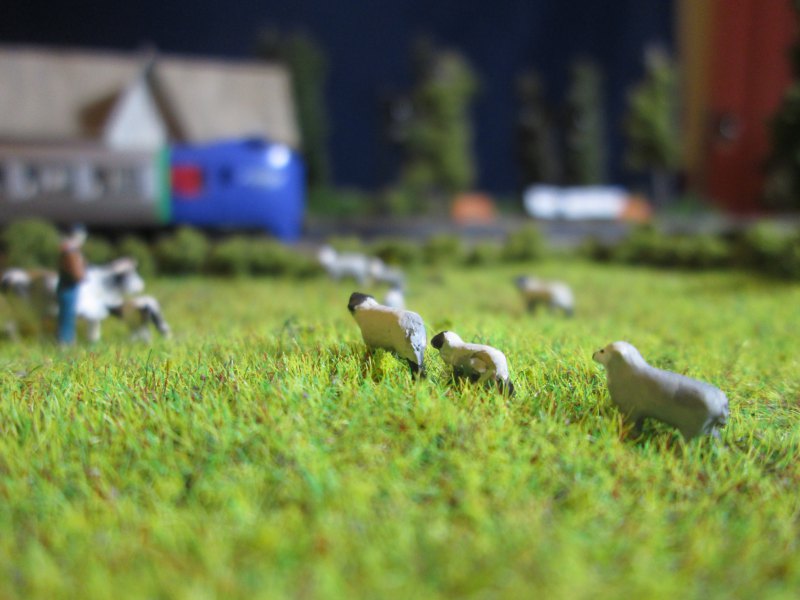 Turns out most paddocks have a lot more than 14 sheep in them, as mine looks a little empty, but I'm not painting an entire paddock of sheep!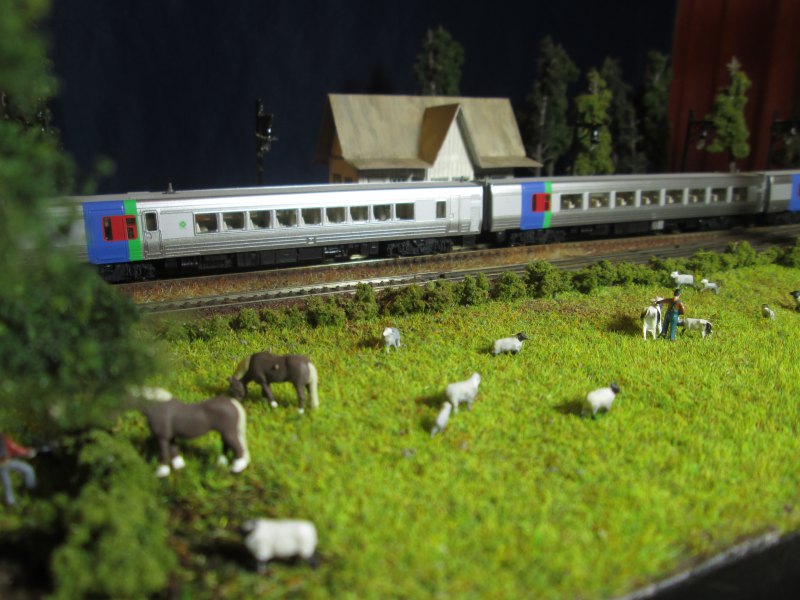 A tree
A tree is always a fun thing to make in the evening, and the sheep need something to shelter under on hot days. I made it using my usual detailed tree technique. I found some extra thick extreme car stereo wire and twisted that into an armature. Then I made up some bark-gloop out of plaster, PVA glue, & brown paint, and spread it over the trunk with a paint brush.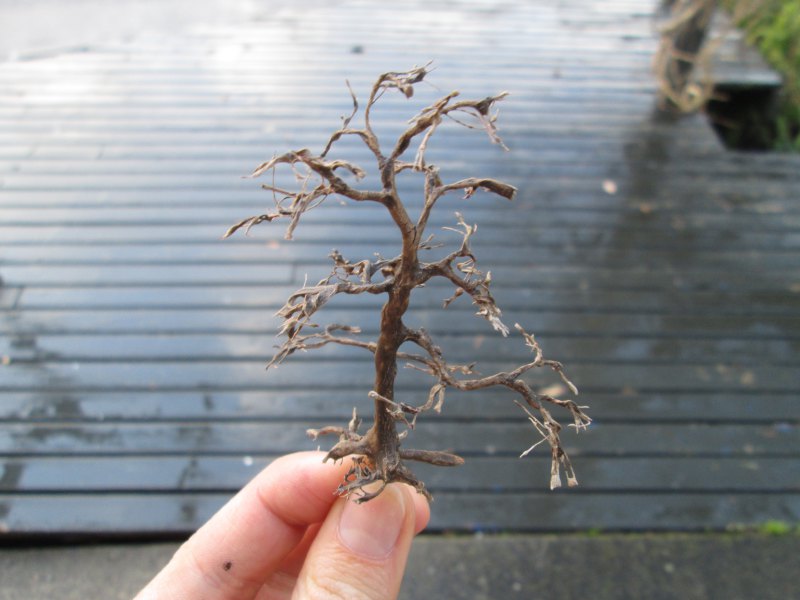 I teased out some poly-fibre and spread it on the limbs, then doused it with hair spray and sprinkled on ground foam.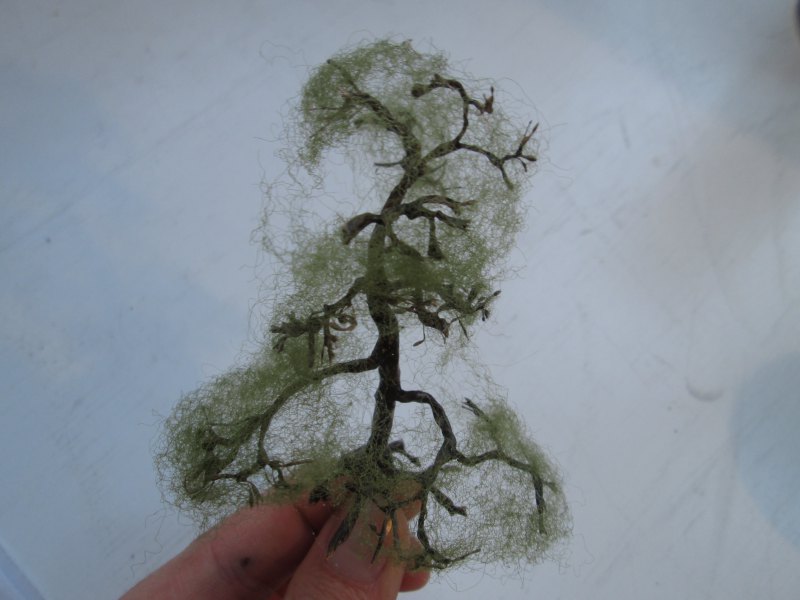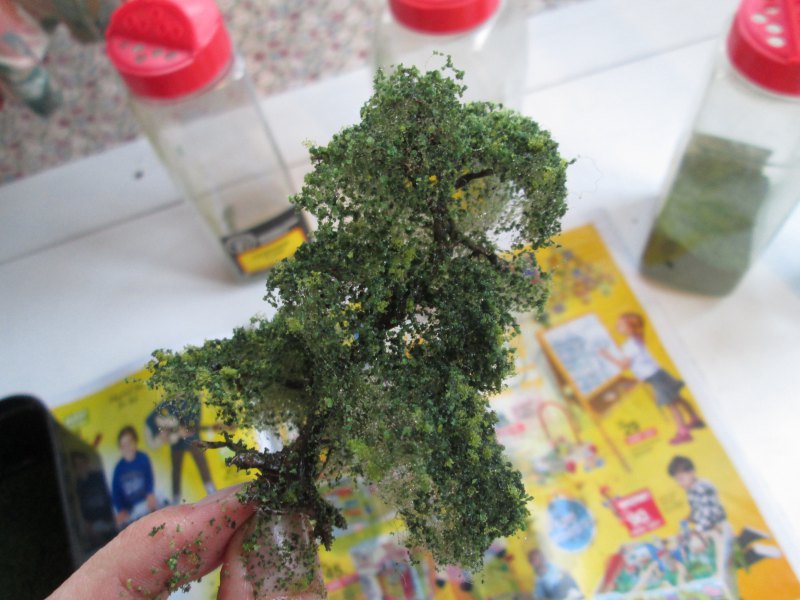 I drilled a hole and planted it in the paddock, then sprinkled some fine dust from the bottom of the log basket around the scene to look like fallen leaves.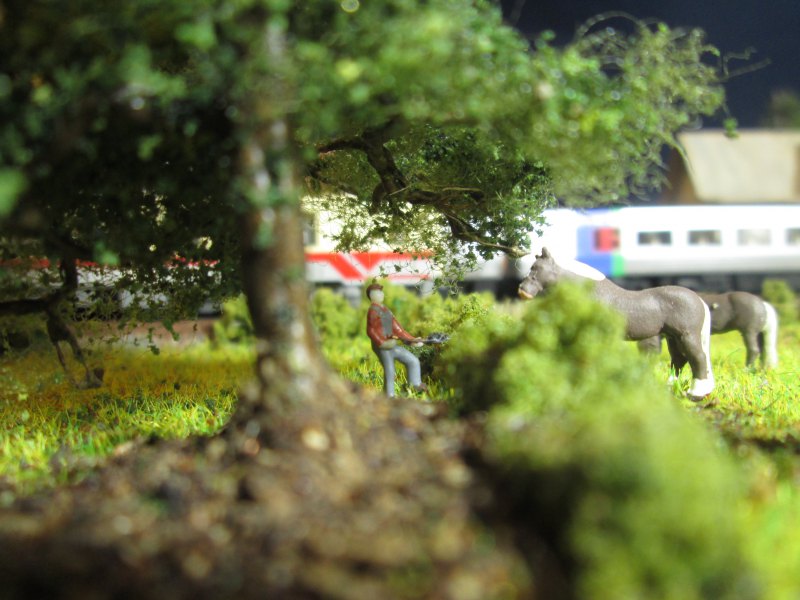 A fence
The empty section opposite the pizza restaurant has always been a bit vacant and lacking in purpose, so I decided to fence it off. I made up a fence frame from some styrene, and then attached some left over corrugated iron.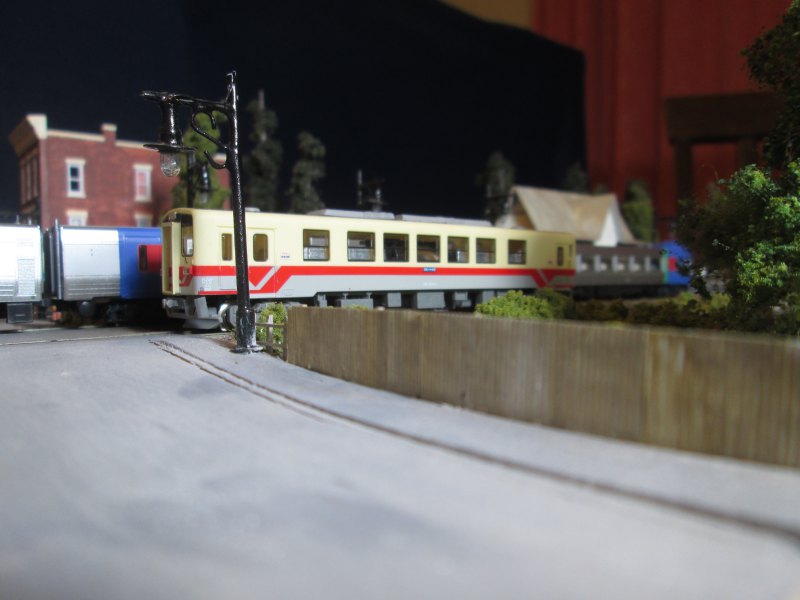 There was a small gap at one end which I patched up with a regular post and beam fence. A stray sheep was last seen poking its head through the railings, so perhaps it will need upgrading in the near future.
Roads
The roads in Raparapa had always bothered me. They were made pretty quickly given the time pressures, but always looked a bit flat I thought. So while I was sprucing things up, I gave the main street a bit of a going over. I started by dry brushing on various mud and dirt tones, and then finished things off with a liberal dusting of weathering powders. I quite like the finished result.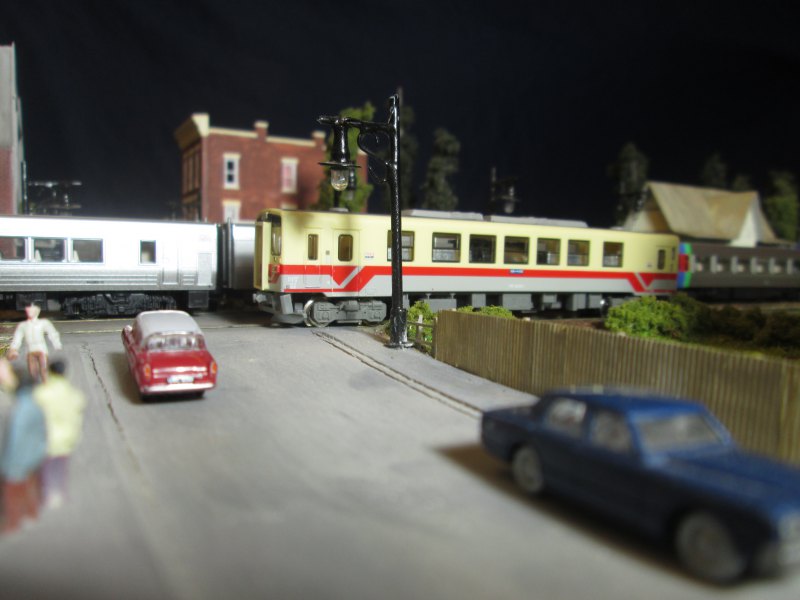 The other roads in Raparapa also got a spruce up. I used the same plaster-glue-paint mix as I did for the tree bark, but this time painted it on the roads. Once dry, I gave it a good sanding down which left a nicely varied surface texture with just the right about of colour.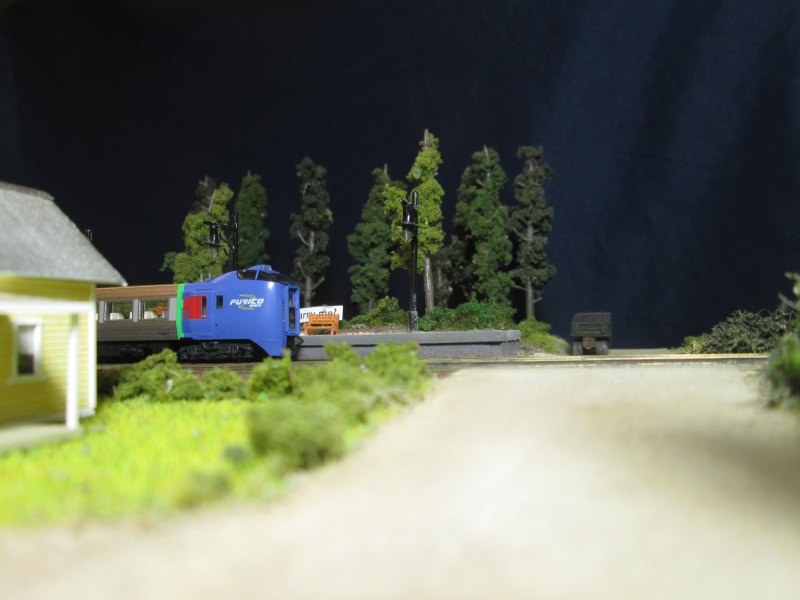 I quite like the finished result, it looks good and dusty.
Station platform
Until now there has been no way to get onto the platform, but I'd always left a gap for some steps. I built some up from styrene.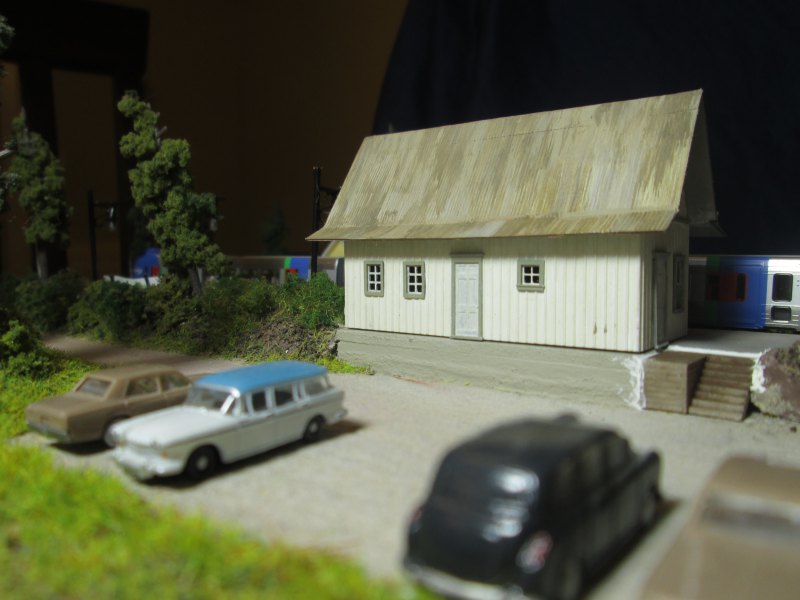 The gaps were filled, though not painted yet. At least passengers have a way to get on to the platform now! There is still the interesting question of why the back door opens up to a 4 foot drop... all I can say is that I followed the E.L. Moore plan very faithfully! Perhaps in the next round of detailing I'll put a rear entrance in. As for the missing door at the front of the station, I decided to build an open door as a rough replacement. Meanwhile the front of the platform finally got cleaned up and repainted, and the platform top also got a dusting with weather powders.
Express service
The latest arrival in the Utrainia stable is a high speed tiling diesel multiple-unit from northern Japan. It is expected that this will be used for express services along the main lines between major stations. The smaller single carriage diesel railcars will meanwhile be used for local stopping-all-stopping services. You can see the distinctive blue, silver, green and red paint scheme of the Furico 283 peeking through in many of the photos from its test run today.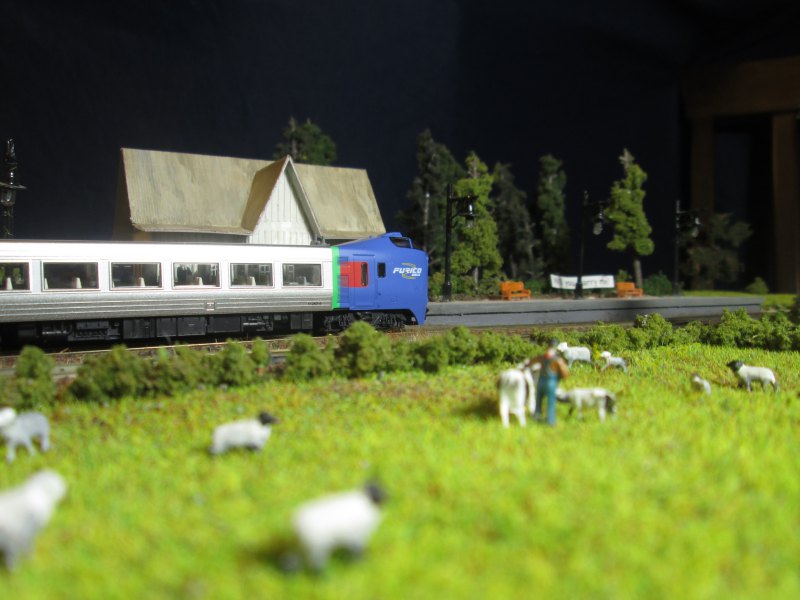 There is still plenty of work left to be done on Raparapa, but that can wait for the next rainy spell (the next 4 days, if the weather forecast is to be believed). Here is a current overview of Raparapa; I think it's looking pretty good.